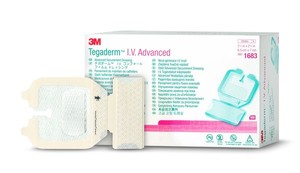 3M Korea said Monday that its two dressing films for fixating catheter –Tegaderm CHG (chlorhexidine gluconate) and Tegaderm I.V. dressing –would receive partial health insurance benefit from next month.
3M Korea said Monday that its dressing films for fixating catheters would receive health insurance benefits from July.
Patients will need to pay 80 percent of the original cost for using the two products. However, the medical charge drops to 50 percent for those with severe, rare, and intractable diseases, according to rules that take special cases into account.
The cost for Tegaderm I.V. will be partially covered when the dressing is used with continuous intravenous injections and peripheral artery catheter, such as changing the injection site inserting catheters in multiple sites for administering various drugs, according to the infection control guidelines of each medical institutions.
Patients can also receive health insurance for Tegaderm CHG dressing when it is replaced according to health insurance standards due to patient carelessness or contaminants such as sweat. However, the insurance for Tegaderm I.V. dressing is covered only when used for catheter insertion.
The new health insurance coverage is expected to lessen economic burdens on those who need catheter insertion and help medical institutions to provide safer treatments.
The U.S. Food and Drug Administration authorized Tegaderm CHG dressings for lowering the risk of catheter-related bloodstream infection by 60 percent compared to the existing dressings that do not include CHG.
3M Korea's dressings can last up to seven days, reducing the number of replacements and minimize the risk of complications.
Tegaderm I.V. dressing uses diamond pattern film to improve air permeability, block external contamination, and maintain high adhesion even in highly humid conditions. As a result, it has five times higher air permeability than peripheral intravenous dressings and fixates three times stronger when used with tapes.
"We are glad to ease the economic burden of patients with the recently applied health reimbursement for various therapies, including our dressings," 3M Korea's Healthcare Sales and Marketing Manager Yang Jong-il said. "We will continue to serve in various fields so that more patients can benefit treatments in an improved medical environment and economic situation through our technology."
###[ad_2]
Originally Appeared Here