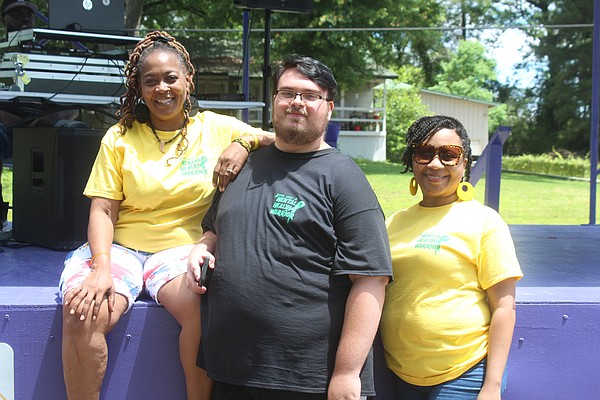 A mental health awareness and Stop the Violence event and rally was held at Old City Park on Saturday. The atmosphere was one of celebration, with music and food complementing the sunny day, lightening the mood for an event focused around a serious topic.
Organizers Sharon Davis and Samuel Hux – the "Awareness Angels"- previously held an event at the Strong City Park on May 6, and brought the gathering to El Dorado in attempt to further their mission of mental health awareness.
Davis was celebrating her 51st birthday on Saturday and said the event had the added benefit of helping her own mental health.
Davis' son, Tony A. Cole II, was fatally shot on January 30 during an argument with an acquaintance, 33-year-old Markeith Mitchell, in a Strong pool hall.
"I didn't want to be home alone [today], so we put this together," Davis said.
Davis was candid about her mental health struggles and the importance she believes awareness has as a community project.
"I've always had mental health issues, but it got worse after my son was murdered… We know this will be hard because of the stigma, but we will keep pushing. It's important to get the word out and try to bring the community together," Davis said.
Davis and Hux met only recently but quickly bonded over shared mental health struggles and the desire to spread awareness and break mental health stigmas locally.
"We just met a month ago, but were able to help each other in crisis… People can be scared to talk about mental health because they think they will be judged. Mental health [issues] can go unnoticed, which can bring violence. We want to let people know they aren't alone," Hux said.
The two next plan to hold a mental health forum in July with a variety of mental health professionals.
Mayor Veronica Smith-Creer, who previously championed the event during a city council meeting, said on Saturday she believes the event highlights the need to break the stigma surrounding mental health care.
"It's important to the community to bring awareness to the situation… So many people suffer from the stigma of mental health and aren't aware that they can be helped, or don't know where they can go for help," Smith-Creer said.
Council member Willie McGhee, who was also in attendance, echoed this sentiment.
"I've been preaching Stop the Violence for a long time. When we lose young people, it affects the whole community… Kids need mental health care too, not just adults. Imagine being a kid during this pandemic, dealing with being isolated at home. [We have to] recognize the signs of mental health issues and get rid of the stigma that seeking mental health care means you're 'crazy.' The stigma can even be doubled in communities of color, but mental health care is so helpful in so many situations," McGhee said.
Violence in the community, McGhee added, affects the entire community and must be addressed as a community.
Harbor House rep Tamara Iverson said she was there from the organization's satellite office in Magnolia to help spread awareness about addiction and show that help is available.
"We look to educate people about drugs and alcohol, and do school presentations statewide," Iverson said.
Food and craft vendors also shared space alongside mental health care organizations. Those at the event included Harbor House rep Tamara Iverson, Mortuary BBQ, Drebae's, Great Daze Bowtique, Protect Self Always, Pinky's Sweet Treats, Ernesto's Kitchen and DJ B-Dub.
Guest speakers were also scheduled to take the stage throughout the day. The event lasted from 11 a.m. until 2 p.m.
[ad_2]
Originally Appeared Here