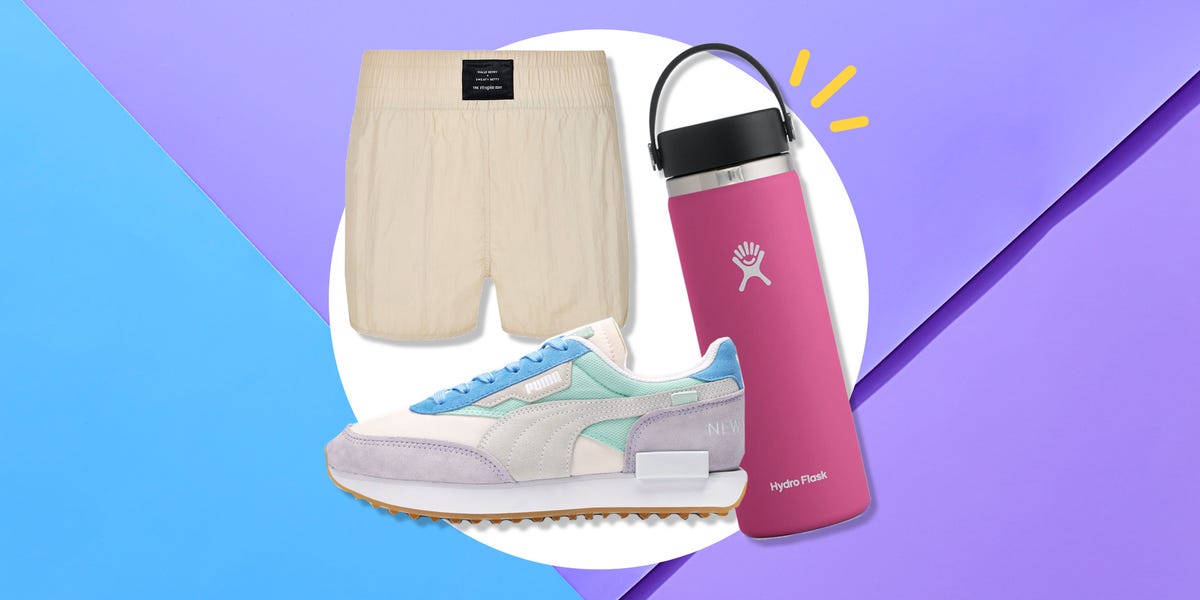 Memorial Day weekend may mark the beginning of summer, but in 2021, it also marks the beginning of us (safely!) getting back out into the world. Most importantly for all the online shopping lovers, Memorial Day comes with some serious discounts on all our favorite items, from massive sales on big ticket pieces like mattresses and tech to staples like leggings and home gym equipment.
This year, the deals are even bigger than ever. For example, luxe brands like Alo Yoga are taking up to 60 percent (yes, you read that correctly) off some of their bestsellers. Kiehl's is even doing 25 percent off the entire site—yes, now is the time to finally grab their cult-favorite Midnight Recovery Concentrate. My personal favorite? Sweaty Betty is taking up to 40 percent off their entire site, and if you haven't already checked out their Halle Berry collab, now is absolutely the time to grab a few bestsellers from the sustainable, UK-based activewear brand.
Whether you've decided it's finally the time to treat yourself (because it always is!), you're shopping for the recent graduate in your life, or you need to stock up on some wedding gifts for the season, see below for the best Memorial Day 2021 deals and sales to shop online this weekend. No judgement if you end up canceling a BBQ plan or two to shop.
1
Apple AirPods Pro
Apple
amazon.com
$249.00
$197.00 (21% off)
No, your eyes aren't deceiving you. AirPods are over $50 off right now. The noise-canceling, barely-there earbuds are a no-brainer for anyone who listens to podcasts or music while working out, studying, running errands, or even sleeping.
2
Muse Hoodie – Bone Heather
Alo Yoga
aloyoga.com
$70.00
Alo's highly-coveted bestsellers are hard enough to grab while they're in stock as is, but now that their sale section is restocked with items up to 60 percent off, they're bound to fly off their (virtual) shelves.
Their lightweight hoodie is a summer must, but you'll also want to get something from their super cute rose-themed and chic plaid lines.
3
Adidas Sculpt Leggings
Adidas
Adidas
Adidas is going to be taking 25 percent off their entire site, so now is definitely the time to add their bestselling sculpt leggings and the newly-launched tie-dye sneakers to your cart. Just be sure to use the code SAVE25 at checkout.
4
Nike Air Force 1 07 LE Low
Footlocker is already a go-to haven for household, iconic names in activewear, but now that the entire site is 20 percent off any purchase over $100, you'll want to stock up on some summer shoe essentials for the entire family.
5
20 oz Wide Mouth Hydroflask
Wide Mouth
hydroflask.com
$28.46
If you don't already own one of these fan-favorite water bottles, you may wonder why people are so obsessed with them. Made with professional grade steel, they keep cold beverages cool for a whopping 24 hours (a must for summer!) and hot beverages hot for 12 hours. 
They can be pricey, but since the entire site is 25 percent off right now, you'll definitely want to stock up. They're available in tons of fun colors, but you can even design your own if you feel like getting creative.
6
EMPATHY ALWAYS Crewneck
themayfairgroupllc.com
$98.00
There's a reason celebs from Jennifer Lopez to Hailey Bieber are obsessed with these sweats. Not only are they extremely soft and high quality, the brand is all about social justice. The entire site is 20 percent off now, and you'll probably want to pick up one of everything.
7
XTERRA Fitness FB150 Folding Exercise Bike
XTERRA Fitness
amazon.com
$179.99
$113.27 (37% off)
Let's get real: Home gym equipment can get seriously pricey—especially when it comes to a good cardio machine. Today, this Amazon bestselling bike is nearly 40 percent off. Plus, the fact that it's foldable makes it a convenient addition to any small space.
8
Fifty Shades of Grey Greedy Girl Play 5-Piece Box
Fifty Shades of Grey
lovehoney.com
$50.00
Sure, you'll be wanting to get out a bit more with the nice weather and all, but if you're looking to supplement your indoor activities, LoveHoney has your back (and, all other parts of your body). They're taking 40 to 60 percent off some of their bestsellers this weekend. 
Be sure to check out the iconic Fifty Shades box for just $50, bondage mask for under $10, and their three-piece lace thong set for 50 percent off.
9
Mikolo Fitness LAT and Lift Pulley System
Really looking to up your home gym game? This eight-piece set is easy to assemble and offers the ability to do all your strength training in the convenience of your home. At 40 percent off, it's only $60 right now. 
10
Large Selfie Ring Light with Stand for Phone
A ring light and tripod are practically essentials at this point. This ring light stand is already a steal at its normal price of $70, but now that it's over 40 percent off, it's time to add it to your cart. 
It comes with a handy remote for easy video recording and selfies, too.
11
SAMSUNG Galaxy Watch Active 2
SAMSUNG
amazon.com
$249.99
$199.99 (20% off)
While some smart watches can look and feel a bit clunky, Samsung's stylish Active Watch pairs just as easily with a date night outfit as it will with your two-piece activewear set. 
The bluetooth-enabled watch might have just launched, but it has already garnered over 30,000 five-star reviews. Now you can get it for 20 percent off.
12
Modsy Interior Design
Modsy Interior Design
Modsy Interior Design
$300.00
A lot of this year has been about upgrading our home spaces. If the budget just wasn't there for an interior upgrade, now's the time to try out Modsy—the app pairs you with an interior designer who will curate and design your dream space. 
They're already budget-friendly, but now Modsy is offering up to 30 percent off all furniture and home decor you get through their site. Even better? Use code SUN30 to get 30 percent off all their design packages.
13
Karla Parka Jacket
This long weekend, Sweaty Betty is taking up to 40 percent off their entire site. It includes their recent collab with Halle Berry, so you'll definitely want to snag the entire line (or, at least their uber soft leggings).
14
Active+ Halo Smart Mask Black
There's a reason this face mask has a serious cult following. Made with a comfortable mesh fabric for your sweatiest workouts and a neon layer of fabric primed for late night runs, it also features smart technology that tracks your breathing and filters air for you.
Just pair it with the app on your phone, and you're bound to get hooked. This makes a great unique gift for the athlete in your life, and now that it's 10 percent off, you have nothing to lose.
15
Short Hiking Socks – Navy
paperprojectny.com
$14.00
Made specifically for hikers, these sweat-wicking, antibacterial socks feature a cushioned heel that makes these a high quality must-have for anyone who plans on doing some hiking this summer. The entire site is 20 percent off, so feel free to stock up on several pairs in every color.
16
Sport Luxe
lavanila
lavanila.com
$14.00
I never understood why people were so obsessed with this deoderant—till I tried it. The clean brand's Sport Luxe deo is infused with sweet-smelling lemon and tree oil that you'll get a nice whiff of every time you lift your arms, and the triple odor technology makes it super effective. 
The brand is taking 25 percent off their entire site, so now's definitely the time to stock up on this and their signature fragrance, too. 
17
Future Rider NYC Women's Sneakers
This season is all about pastels, and now that Puma's entire site is going to be 20 percent off (just be sure to use code EXTRA20 at checkout!), you'll definitely want to grab their new line of cool-toned sneakers, leggings, and exercise dresses.
18
Classic "Wonder Woman" Tee
RE/DONE is all about upcycling vintage items and creating luxury vintage tees that can usually be pricey, but the fact that they're taking an extra 25 percent off their sale section is the sign you've been looking for to restock your denim and tee collection.
19
Blush Pink Knotted Bow Hair Tie Set
The Hair Edit is already renowned for budget-friendly, cute hair pieces, but now that they're taking an entire 50 percent off the site this weekend, a haul is a no-brainer.
These hair ties may look too cute to sweat in, but the subtle grips on them make sure your ponytail won't budge during even the most intense workouts. Plus, the silicone texture means they won't ruin your expensive blowout, either. 
20
Midnight Recovery Concentrate Face Oil
'kiehl"s'
kiehls.com
$52.00
There's a reason you've already heard so much about this oil. Reviewers swear by it for treating acne, dryness, sensitive skin, and more—a must-have for summer. 
Now that the entire site is 25 percent off, you'll also want to grab their Vitamin C serum for some extra glow, too.
21
Persian Dreams Journal
Trust me, you'll want to remember everything you end up doing this hot girl summer. Whether you need a journal restock or have been thinking of taking up the hobby, stationary brand Papier is taking 20 percent of all their notebooks this weekend. 
Neha Tandon
Neha Tandon is the E-Commerce Editor of Women's Health—she's an expert in discovering the best products you can buy and giving recommendations.
This content is created and maintained by a third party, and imported onto this page to help users provide their email addresses. You may be able to find more information about this and similar content at piano.io
[ad_2]
Originally Appeared Here