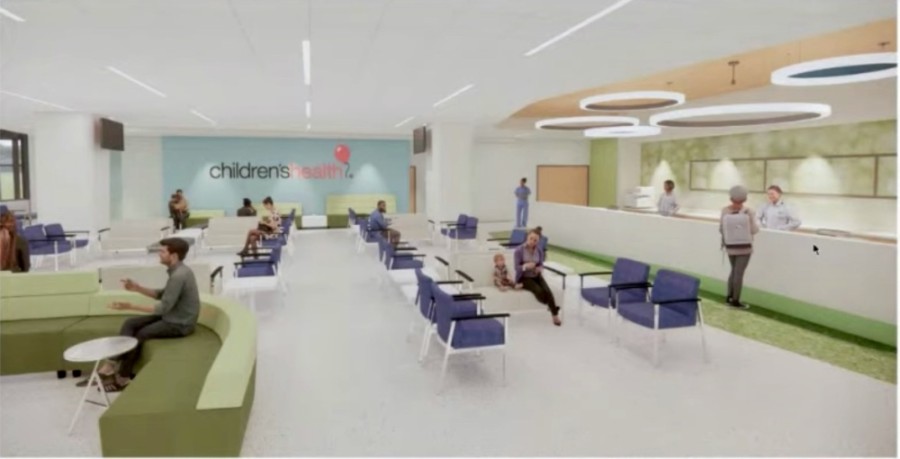 A digital representation of the waiting area of ​​the emergency room as part of the expansion project of the Plano Children's Medical Center was presented in a virtual presentation on May 25 (Courtesy of the Plano Children's Medical Center)
Children's Medical Center Plano wants to become a Level II trauma center as part of its continued expansion.
Hospital officials provided an update on the extension during a May 25 virtual presentation.
The plans, which were announced last year, include a 300,000-square-foot tower that will contain numerous specialized care facilities. The tower will nearly double the size of the hospital and increase the total number of beds from 72 to 240. Other plans include additional space for the operating room, emergency extensions, more hospital services and a new parking structure. Construction is expected to be completed in 2024, officials said.
A key focus during the presentation was the desire to change the current designation of the hospital as a level IV trauma center to a level II trauma center.
According to the American Trauma Society, a level IV center acts primarily as a center for diagnosis and detection where staff decide whether to transfer patients to a higher-level trauma center. A level II trauma center can provide this care to most injured patients.
Plano Hospital currently sends patients to Dallas Children's Medical Center if their condition is too severe.
"There is great growth in the area and there are so many children and young families settling in. And there is also a need for all these specialized services: the main one is trauma," said Dr. Khoshnood Ahmad, head of service emergencies. medicine. "Now [patients] you have to travel further south to go to these other trauma centers. "
As part of the change to the higher designation, the hospital plans to add more radiology services, larger patient care rooms and a larger waiting area with additional services.
Ahmad said the changes should lead to shorter waiting times for trauma patients. Officials expect the Plano campus to receive the Level II designation sometime next year, he said. Hospital officials said during the presentation that they will hire and hire more staff intermittently over the next few years to fill positions related to the expanded facilities.
"The Children's Medical Center is a very attractive place to come to work," Ahmad said. "People like to come and be part of the community and work at the medical center."
Vanessa Walls, executive vice president of the North Child Health Market, said children are best cured when their lives are less affected by having to travel to other facilities to receive care.
"Our goal is to be able to eliminate this adversity, if you will, and bring these services and programs closer to home," Walls said. "The distance between Plano and Dallas is a significant distance when you think about what needs to happen for this child to be prepared for care and impact on the larger family."
Children's Medical Center Plano opened in 2008 and has more than 180,000 patient visits a year, according to a Health Health statement.
The presentation also detailed a separate 30,000-square-foot child health facility currently under construction in Prosper, near the intersection of U.S. 380 and the Dallas North Tollway.
The virtual presentation can be viewed here.