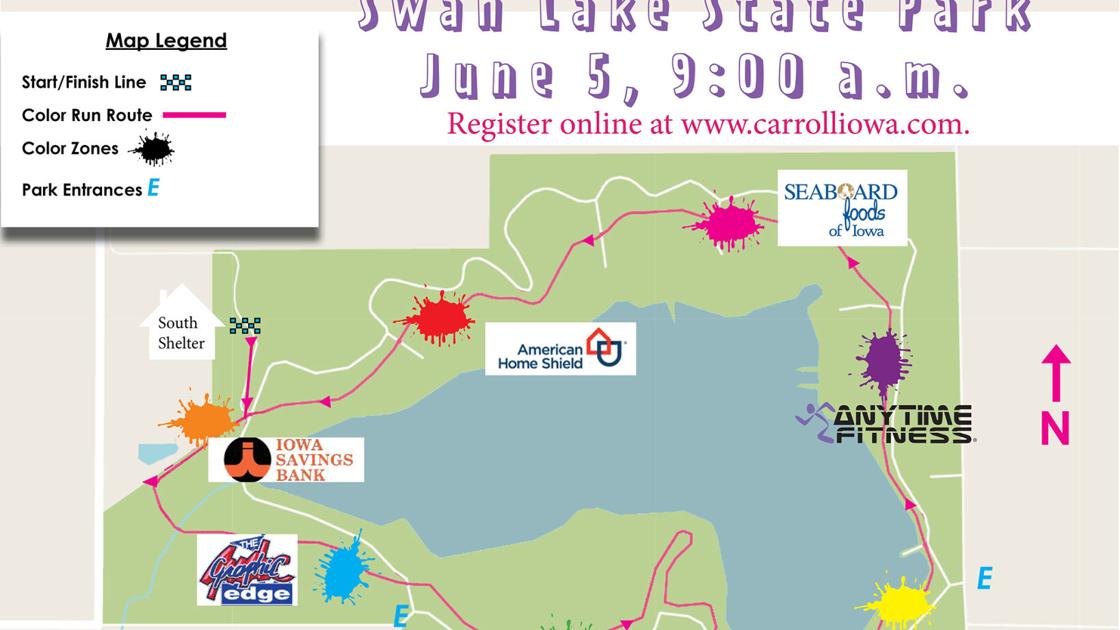 The Carroll Chamber of Commerce invites everyone to participate in its sixth annual Color Fun Run / Walk on Saturday, June 5th.
The event is a walking tour of and around Swan Lake State Park via the Sauk Rail Trail. The event begins with registration at 8:30 a.m. at Swan Lake State Park's South Shelter House, which it is also where participants will begin and end their career or walk this year. Participants will receive a white t-shirt from the event (to help capture the color) and a gift bag for attendees full of findings from the event's business sponsors.
"We're looking forward to going back to some of our favorite community events after a year of cancellations," said Ashley Schable, director of the House program. "The Color Fun Run 5K is less than 10 miles away and more fun to let you dive from head to toe in powder of different colors."
To accommodate participants of all abilities, the start at 9 am will be aimed at runners and those who want to time, and the start at 9:05 will be more for those interested in walking or just enjoying one morning on the track.
Prior to the race, Michelle Prichard of the Iowa Savings Bank will lead interested participants in two or three Zumba activities, which will begin near the shelter home at 8:45 p.m.
Participants will make their way through seven colored areas, which consist of sponsors throwing into the air a colored powder based on cornstarch. The dust will leave runners looking like rainbows at the end of the route. Each of the seven color zones is sponsored by area companies: American Home Shield, Anytime Fitness, Brown's Shoe Fit, The Graphic Edge, Iowa Savings Bank, Seaboard Foods and Western Iowa Networks.
At the end of the route, Hy-Vee will provide runners with fruit and fresh water and Bomgaars will have bottled water available in the center of the route.
Registration for the event is $ 30 for adults and $ 20 for children ages 6 to 12 (five years and under are free). Registration can be done online by visiting www.carrolliowa.com/color-run.
In addition to color zone sponsors, event sponsors include: Carroll Eye Care Associates, Computer Concepts – ICE Technologies, Custom Technology Solutions, DMACC, First American Home Warranty, I Saw The Sign, Jimmy Johns, McFarland Clinic , Motor Inn, Next Generation Chiropractic, Pella, Chiropractic Soups, The Graphic Edge, United Bank of Iowa and Wellness Coalition.
Given the concerns of COVID-19, participants should attend, wear masks and social distances at their own level of comfort. Organizers are asking for sick people to stay home.