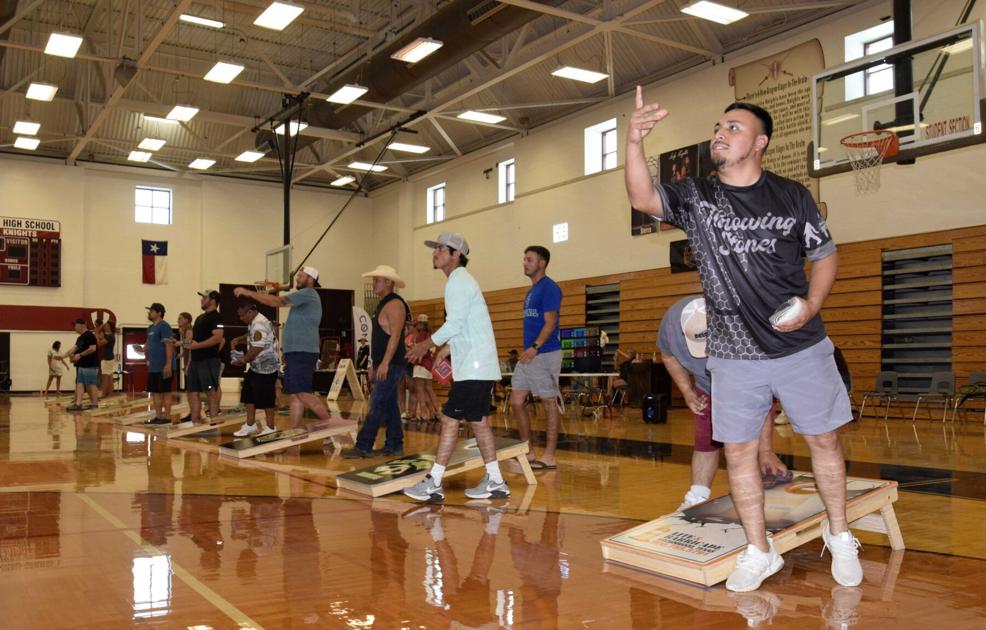 Dozens of people drove to Harker Heights Saturday to participate in the very first Baggin' and Braggin' Cornhole Tournament, hosted by Vision XXI.
Cornhole is a game, typically played in backyards and bars, in which small bags, sometimes filled with dried corn, are tossed at a target consisting of an inclined wooden platform with a hole at one end.
The competition kicked off at Harker Heights High School, 1101 East F.M. 2410 Road, at 11 a.m.
"We are super impressed with the amount of teams we had come here today," Mary Shabunia, Harker Heights Chamber of Commerce Vice President of Business Development, said Saturday.
Shabunia said a total of 26 cornhole teams competed Saturday.
"This is a fundraiser for the Vision XXI class," she said. "The class did a great job of brainstorming, coming up with ways to fundraise, and this is one of them. They've done a great job."
Joe Albarado and his 14-year-old son, cornhole enthusiast Noah Albarado, drove to Harker Heights from Abilene Saturday morning.
"He saw the payout and wanted to come," Joe Albarado said of his son. "So, we drove in from Abilene. We got up at 6:30 this morning."
Angel Cruz, 25, of Dallas, drove in to play on Noah Albarado's cornhole team. The pair wore matching jerseys sporting their team name the 'Throwing Stones.'
"Honestly, I love just throwing bags, meeting new people," Cruz said. "It's just fun. Getting to see little Noah and how much fun he has with it — we just won our first game."
Teams competed for cash prizes: $1,000 for first place, sponsored by Designed2Sell Real Estate Company; $500 for second place, sponsored by Netco Title Company; and $500 for third place, sponsored by Corrective Chiropractic & Wellness.
The results of the tournament weren't available late Saturday afternoon.