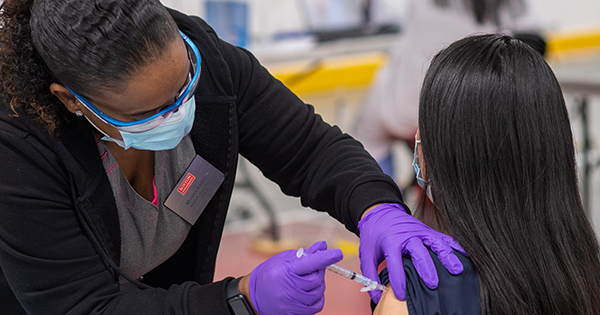 Some women across the US have anecdotally reported that after receiving their coronavirus vaccines, they experienced heavier, earlier, and more painful periods. Now a Boston University researcher is leading one of five teams awarded a total of $1.67 million from the National Institutes of Health (NIH) to investigate whether COVID-19 vaccines have an impact on menstruation. 
Lauren Wise, a BU School of Public Health professor of epidemiology, will look for evidence of COVID vaccines affecting periods through Pregnancy Study Online (PRESTO), the NIH-funded online study she runs that follows women trying to conceive from preconception through six months after birth. 
The study has been collecting data since 2013 on many aspects of female health and fertility, including regularly asking participants questions about their menstrual cycles and inviting them to use a menstrual charting app. 
Using data collected from 1,800 women, Wise's team will look for associations between coronavirus vaccination and cycle irregularity, cycle length, intensity of bleed, duration of bleed, intermenstrual spotting/bleeding, and pain associated with menses.
"These rigorous scientific studies will improve our understanding of the potential effects of COVID-19 vaccines on menstruation, giving people who menstruate more information about what to expect after vaccination and potentially reducing vaccine hesitancy," said Diana Bianchi, director of the NIH's National Institute of Child Health and Human Development, which is funding the research along with the NIH's Office of Research on Women's Health.
BU's PRESTO study has already helped Wise's team discover new insights into fertility, such as how the time of year affects fertility, fertility's links to menstrual cycles, and whether or not marijuana use has impact on a female's ability to conceive or the likelihood of miscarriage if the father uses marijuana. 
Now, the NIH is hoping PRESTO can help provide women with more information about what to expect during their menstrual cycles following COVID vaccination.
Bianchi says her team at NIH expedited its grant funding process for this research. "There was an urgency to it, the fact that this was getting so much attention. We were worried this was contributing to vaccine hesitancy in reproductive-age women," Bianchi told The Washington Post.
The US Centers for Disease Control and Prevention says there is no evidence that the vaccines cause fertility problems. It recommends vaccination against coronavirus for everyone in the US aged 12 and older, including people who are trying to get pregnant now or might become pregnant in the future.
Explore Related Topics:
###[ad_2]
Originally Appeared Here