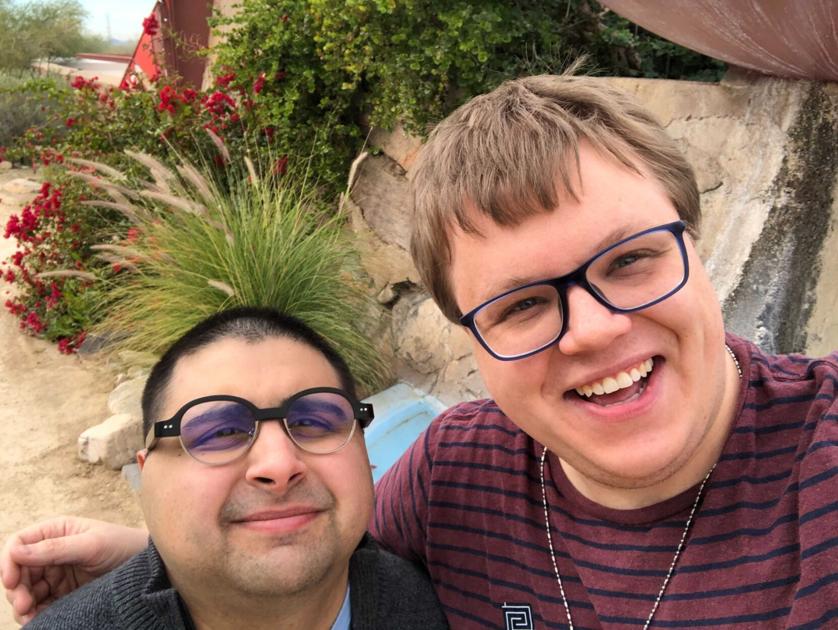 My husband and I might not seem the likeliest Jewish parents.
I'm from a small town in Iowa but growing up I had a friend that was Jewish. I used to ask her questions for hours about Judaism. The more I learned the more I realized that Judaism was the faith for me. I converted to Judaism in 2009.
When I made this choice, I vowed to raise my future children as Jews and to have a Jewish household. This is a promise I take very seriously.
When Yousef, my husband, and I started dating, I made my intention to have a Jewish family very clear. Yousef was not Jewish, but he was totally on board with my future plans. He saw how much joy being Jewish brought me and he was embraced by my community. And in 2017, he converted too.
Shortly after that, we got married at Beth El Synagogue in Omaha, Nebraska. I'm happy to report we were the first same-sex couple to get married at our Conservative synagogue. We were married on Tu B'Av and our little union even made the local newspaper.
I had two life goals: raise my kids as Jews and move somewhere else. I wanted to see what else is out there. Luckily, I was able to transfer to Greater Phoenix.
One of my two goals had been met, so it was time for Yousef and me to start thinking about the next priority: raising a Jewish family.
Yousef and I are at a unique disadvantage when it comes to children. As a same-sex male couple we have to have help if we want to add a child to our family. I personally didn't want to consider having a surrogate. For me, that didn't seem right since so many children are in need of a good home. Therefore, adoption is the most logical choice.
Then I heard about YATOM, the Jewish Foster and Adoption Network, and the timing couldn't have been better.
YATOM has brought together couples from across the nation in fellowship and learning. During the COVID-19 pandemic, this work has been done virtually.
We've had workshops with several experts in the fields of foster care and adoption. In each session we've had plenty of opportunities to ask questions. It certainly has given us chances to think about questions presented in the workshop.
The two sessions that stood out most were about children's health and conversion for adoptees. Something that Yousef and I never really considered was how health insurance would work for foster children. We also were unaware of the myriad mental and/or physical health challenges children in the child welfare system could be facing.
Many children come from dysfunctional homes. They might be malnourished or have mental health concerns arising from a less-than-ideal life. Yousef and I now have a better understanding of some of the care and needs that many children in the system might have.
We also studied with Rabbi Dr. Shmuly Yanklowitz, YATOM's founder, about Judaism and adoption, which was very meaningful and critical.
Adopting a child isn't easy and adopting a child that's already Jewish is even more challenging. I always had reservations about converting a child to Judaism. To be honest, I wasn't sure if that was allowed or generally practiced. I found out it is, but I still have reservations.
One of the biggest reasons we want to adopt is to have a child to whom we can pass down our faith's traditions. People often contemplate what they want their legacy to be. For me, it's simple. I want to be responsible for making sure that Hazimeh remains a Jewish last name after my passing.
To be able to learn about adoption from a Jewish perspective and in a Jewish setting has given me the tools I need to make my dream happen. It's also given me the encouragement I need to pursue this dream.
Yousef and I don't have a timeline yet for adoption. But it is in our future and it's an experience I look forward to so much. My advice to anyone who is Jewish and considering adoption is to apply for a future cohort with YATOM. It's never too early to start learning about the adoption and foster process if you think that's what your future holds.
We participated in YATOM's fifth cohort of its family fellowship and the sixth is about to begin. This might be your time. JN
Matt Hazimeh works for Progressive Insurance and lives in Tempe with his husband, Yousef, and their two cats.
[ad_2]
Originally Appeared Here