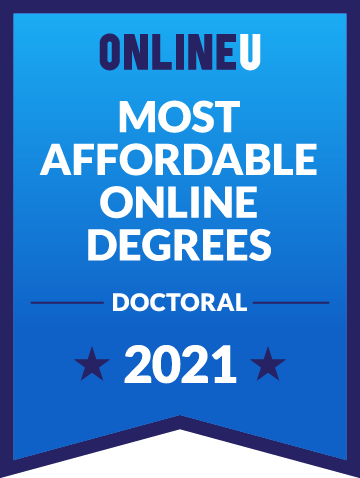 Keizer University has recently been named among the top colleges and universities in the U.S. for affordable online doctoral programs according to OnlineU, a website that advocates for the affordability of universities. Keizer was ranked 17th on the list of the 25 most affordable online doctoral programs in the country's public and private schools.
"Pursuing a doctoral degree is one of the most effective ways for employees to improve their career opportunities," said Robert Keizer, Ph.D., MBA, vice chancellor of Keizer University's Graduate School. "Greater earning potential and opportunities for advancement are just some of the benefits of having a doctorate."
To compile its list, OnlineU ranked the top 25 colleges and universities that met eligibility requirements that included regional or national accreditation and at least 10 doctoral programs completely online. Enrollment data and degree information were collected from official school websites, reflecting data from the 2020-2021 school year.
The Bureau of Labor Statistics designates 101 occupations that normally require a graduate degree to access them. Of these, 63 usually require a doctoral or professional degree. With a focus on preparation and career advancement, Keizer University's Graduate School offers 13 doctoral degrees in some of Florida's key industries. These programs include terminal degrees in business, chiropractic medicine, curriculum and instruction, criminal justice and criminology, educational leadership, nursing, and nursing anesthesia practice, among others.
"We are honored to be named as one of the best colleges and universities for affordable online doctoral programs," Keizer said. "At Keizer University, we continue to emphasize positive student outcomes. This classification is a testament to our school's commitment to providing students with affordable and accessible educational options that will help them achieve professional success. "
Keizer University was one of only two schools in Florida to win the designation. To see the full list, visit: https://www.onlineu.org/most-affordable-colleges/doctoral-degrees.
Keizer University enrolls approximately 20,000 students on more than 21 campuses across Florida, internationally and online. Keizer has previously been named number 11 for social mobility in the 2021 ranking of top US News & World Report universities. For more information about Keizer University graduate school, visit: https://www.keiseruniversity.edu/graduate-school/.
Keizer University is a private non-profit university that serves about 20,000 students and employs 3,800 faculty and staff members. Co-founded in 1977 by Chancellor Arthur Keizer, Ph.D., the university currently offers more than 100 degrees on 21 Florida campuses, as well as online and in two international locations. Keizer University is accredited by the Southern Association of Colleges and Schools Commission as a Level VI institution to award certificates and degrees at the associate, baccalaureate, master's, master's, and doctoral levels. For more information about Keizer University, visit www.keiseruniversity.edu.