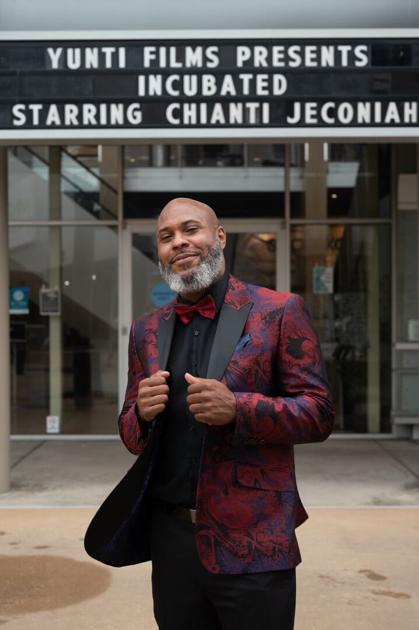 Marshall resident, Chianti Everitt, is spotlighting the plight of mental illness on screen as he debuts his first feature film, Incubated, this Saturday, in an effort to help families and end the stigma it brings.
"This is really something that I was going through personally," shared Everitt. 'I'm diagnosed with bipolar syndrome and it's Type 1, and I'm more manic and so I was so reluctant for years to acknowledge that or even consider it because I thought people were calling me crazy, maniac, psycho and something was wrong with my brain and different things like that. And just through a series of trouble — a troubled childhood, troubled adolescence and all of that — I finally gave in to maybe this lady that I'm talking to could have a point. Maybe I have something — a problem.
"Once I acknowledged that, I could get the treatment that I needed, the medication that I needed, and I've been doing good ever since," said Everitt.
Incubated, which was written and executive produced by Everitt and his production company, Yunti Films, is inspired by the true story of Everitt and goes live this Saturday on four digital platforms — Amazon Prime, iTunes, Google Play and Vudu.
"Everything about the movie is true," said Everitt, noting it touches on everything from mental illness to childhood trauma.
"Everything is symbolism," he said.
According to the movie synopsis, the main character, Sean, played by Everitt is a truck driver, who suffers from mental illness and is triggered during the global 2020 pandemic.
"While trying to balance his sanity and keeping his family safe and protected from the virus, unexplainable events take place that causes him to trap himself inside of his 18-wheeler and refuse to get out," the synopsis states. "His wife Morgan fights frantically trying to piece her family back together as Sean utilizes the help from his therapist to gain the strength to go home."
Everitt, who is also a truck driver, noted that the story mirrors his own experience while trying to mentally stay sane through the COVID-19 pandemic.
"When COVID hit, we were writing a movie and we had to stop the production," he said. "Because of the social distances, the laws had changed in Texas period, so I had to write a movie that we could social distance. And COVID really was freaking me out. My fear and anxiety overrode my current treatment plan, and I kind of spiraled out of control.
"I stayed locked up in my truck for 30 days. I did not go home. I didn't go anywhere," he shared. "I didn't want to see anybody."
Even the slightest sniffle made him frantic and fear for his life.
"I was just panicking and dealing with a lot of past trauma that triggered — childhood trauma and everything — so I just stayed locked up," he said. "I didn't want to see anybody and didn't want anybody to come around me or none of that; and so I started writing."
Writing became therapeutic for him and served as a coping mechanism he learned through therapy.
"One of my coping skills was writing," said Everitt. "You can write out your trauma on paper, and the therapeutic side was you get to see it burn up or you get to rip it up and throw it in the trash.
"But me writing it and writing about it, getting it out of me, onto paper and on screen in a form that it could help somebody else, another family, that really, really was therapeutic for me," he said. "It reminded me of some of my older therapy sessions, because I had to dig up how I (overcame). It's kind of like your testimony. It's like you have to remember how you got out of that and go back to the basics. So that's how I got through that. I wrote about it."
Everitt is thrilled to be able to spotlight his hometown Marshall in the movie, as all of the scenes were filmed in town. It was his way of paying homage and expressing his gratitude for the town's support.
"I wanted to publicize us down here and expose what we have to offer down here," Everitt said of why he chose to film here. "That's what I wanted to do."
He thanked local businesses and residents for being supportive of his cause.
"I knew all of the people that were here. When we needed different locations, they supported me to no end, like buildings, truck stops, outside of the houses that we had to rent for Airbnbs," said Everitt. "They really supported me down here. People would ride by and they saw us filming and wouldn't get in the way or moved their cars when we needed them to move their cars.
"It felt like I was being supported by my hometown and I knew that I would get that from them," he said.
The main cast in the film include Everitt's own 9-year-old son, who also has the pleasure of playing the son of Everitt's character in the film. Everitt is humbled to be able to experience such opportunity with his son as he set out his mission to help spread positivity and healing to families through the art of film.
"There's not a lot in this area," he said of opportunities in the film industry. "But for me to be able to expose him to that, it means the world to me.
"Just starting him out in a better position than I was and me being able to reference my childhood traumas and making sure that I get him as far away from that as possible, is what I'm excited about," said Everitt. "It's a subtle way of teaching him. He doesn't know that all the time, but I'm teaching him because I make his line something that he needs to learn."
According to his bio, Everitt began descriptive and persuasive writing in elementary school. As he advanced, he crafted his expository and poetic writing that earned him many awards and recognitions. A musical artist as well, he has ghostwritten songs for various artists and wrote his first short film, "Life Rolls On", followed by "See Males," which were both released in 2019.
In 2020, he launched his own production company, Yunti Films, inspired by his childhood nickname, Yunti. Through the production company, he aims to reach the masses through film by bringing a positive light on prevalent events that has occurred in his own community, his bio states. Additionally, in March 2021, Everitt launched his first podcast on Chianti TV where he creates awareness on current topics that affect people in today's society, his bio states.
Everitt is humbled to be able to now present his highly anticipated first feature film, "Incubated", which is set for release Saturday.
"It feels like a big accomplishment," he said. "How big it is, it's unfolding every day.
"The closer it gets, honestly, the more humble I realize that I am because it's not fear, it's a nervousness, but it's a healthy nervousness, because it doesn't make me big headed," said Everitt. "It just keeps me humbled.
"I feel a lot of support, and that is making me extremely humble and grateful," he said.
Through Incubated, Everitt hopes viewers will be inspired to strengthen their family units and stop the stigma of mental health.
"I want to get rid of the stigma in our community," he said. "I want to add mental health awareness to our community and I want them to see the importance of family and shed a light on the wrong way to rear your child up and to be able to notice these things in your own house and in other's homes in case it's happening to your child, and also so that we can see the right way to do it.
"Also, just to spread an awareness of family," he said of his mission, "because it doesn't start in the White House with the president, it starts in our house, and that's what I want them to know."
Everitt invites all to tune in on any of the four digital platforms to watch and support the film's mission.
"The more people that watch this and the more support that they give, the more we can help our community," said Everitt. "This is not about money.
"The money does help to spread the message, but this is not a movie, this is a movement," he said. "A mental health awareness movement is what this is, and I want people to be comfortable enough and to get rid of the pride."
He especially wants to help men be able to overcome their obstacles and know that they can find strength in getting the help that they need through available resources, too.
"As men, a lot of times, we have to be the strongest, we have to be the provider, we have to be everything and we can't show weakness," he said. "But it's not showing weakness, it's making yourself stronger, is what it is."
### [ad_2]
Originally Appeared Here