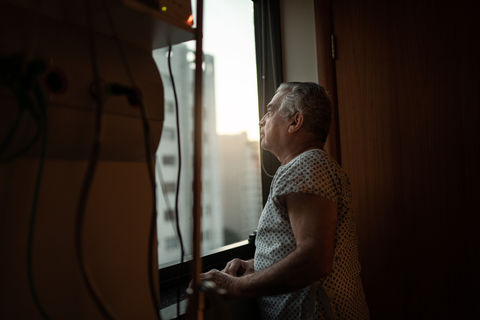 The connection between heart health and mental health is not unknown to patients and medical professionals around the world. One of the many cases of this connection is the fact that mental health fluctuations can be experienced by people after surviving a heart event or undergoing a procedure.
Danielle Henkel, MD, cardiologist at Loma Linda University International Heart Institute, describes why and how patients may develop a series of immediate or chronic mental struggles, such as anxiety, depression, or post-traumatic stress disorder (PTSD). , after a cardiac event or procedure.
Why do cardiac events or procedures affect mental health?
Fear and uncertainty are primarily involved in a patient's efforts to process what happened after a heart event such as a heart attack or undergoing certain heart procedures. Patients may have a limited memory of the event or have difficulty understanding the new medical terminology used to describe their procedure.
In many cases, cardiac events are sudden and unexpected, and some procedures occur quickly afterwards. "All of this leaves the patient little time to process what's happening to him, and that can be traumatic," Henkel says. Even if the patient is aware of an upcoming scheduled heart procedure, they may feel increasing anxiety as they juggle with unknowns what to expect and how the procedure will work.
Along with disturbing mental tensions, there are often unpleasant physical sensations, Henkel says. The cardiac procedure can be uncomfortable, even from the point of view of the need to undress for sterilization before a procedure. In addition, if a patient already feels unwell from the underlying heart disease, new events or procedures can further amplify the tension and stress.
What are the different ways people can experience mental health issues after a cardiac event or procedure?
Henkel says it is common for people who survive a cardiac event or procedure to mentally struggle: about 1 in 5 will develop a severe form of depression while 1 in 3 will leave the experience with anxiety. "Depression or anxiety can become a second diagnosis along with a cardiac diagnosis," he says.
Almost immediately after a post-cardiac event or procedure, people begin to face what has happened to them and begin to contemplate how their lives may be different in the future. Henkel says patients 'minds can spin through a mental carousel of questions: How has this affected my health? How will this affect my financial and employment situation? Will this alter family dynamics as roles change?
Patient loved ones or members of their social support network may also share immediate reactions of shock, stress, confusion, and even guilt, wondering: would they have seen this coming? What was missing? Could I have avoided it?
The initial whirlwind of emotions (shock, fear, pain, sadness, fatigue) and difficulty processing can persist in the long run, Henkel says, becoming a chronic hopelessness, helplessness, or struggle with sleep and concentration. Depression after a cardiac event or procedure sometimes reduces a person's propensity to take their heart medications, withdraw from support, or resort to coping mechanisms that can further harm their health.
"Some people are able to address their initial reaction to a cardiac event or procedure, but there is potential for evolving post-traumatic stress if they are unable to address it or know how to address it as they progress, "Says Henkel.
Is there any factor that puts someone else at risk for mental health problems or post-cardiac events?
There are several factors that can place someone at a higher risk of developing mental health problems after a procedural cardiac event, such as:
A pre-existing history of anxiety, depression, or previous trauma
Living under financial stress or socioeconomic stress
Comorbidities and previous illnesses such as diabetes or obesity
Living alone or not having a built-in support system
Henkel says factors such as age, culture, and gender do not influence someone's likelihood of mentally struggling after a cardiac event or procedure. In this regard, he says that these mental ailments for post-cardiac events or procedures form a universal experience shared by many.
How can someone who survived a cardiac event or procedure increase their mental recovery?
Henkel advises patients to prioritize self-care, which they can achieve in several ways. Patients should make sure they get enough sleep, abstain from excessive commitment to stressful tasks, relax their mind and body with activities such as reading and mindfulness, as well as exercise to "sweat the Stress". Eating a healthy, balanced diet, especially a plant-based diet, has been shown to be effective in helping people feel better physically and mentally.
Participating in forms of conversation therapy with someone you trust or with a professional who is not integrated into your immediate social network can also be a relief for people. The same goes for the caregivers of the person recovering from the cardiac event or procedure. Caregivers may experience significant stress as their lifestyle changes to explain the recent incident. Henkel therefore advises caregivers to honestly express their own needs and to be receptive to new forms of support.
Creating support among family or social group members, whether in person or online, is also beneficial to the mental health of people who survive events and procedures. Cardiac rehabilitation, for example, allows people to focus on healing in a comfortable group environment surrounded by others with similar stressors. Together, a care team and patients work together on exercise and discuss tips for healthy living such as diet and mental health. People can also take their relatives to cardiac rehabilitation sessions, which allows them to hear and understand how to best support their loved one.
You also have at your disposal the LLU MEND program, an intensive outpatient program designed to help patients and their families maintain or regain emotional health and balance during a major illness or medical treatment.
Talk openly with your cardiologist and doctors about how you feel, both physically and mentally. Feel free to ask questions or review possible side effects from medications. Adds Henkel. "We can adjust the medications to make sure the side effects are not worse than the symptoms you are being treated for." Dropping medications, on the other hand, can cause a patient to have recurrent symptoms or end up back in a hospital.
It is also possible to independently address the anxiety or depression that people may feel after a cardiac event or procedure with medications prescribed by a doctor, whether short- or long-term, Henkel says. When all else fails, he states that medications allow patients to overcome paralyzing mental difficulties and allow the patient to engage in self-care or take the first steps toward healing.
The International Heart Institute is here to help you or your loved ones navigate heart care through every step. For more information or to schedule an appointment, call 1-800-468-5432.