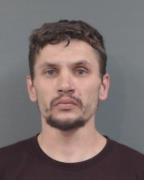 Matthew Rodgers
A McMinnville man, who police said had exhibited "paranoid behavior" recently, tried to flee officers Tuesday afternoon while armed with a knife.
Matthew James Rodgers, 30, was charged with attempted first-degree theft, first-degree theft, first-degree criminal misdemeanors, second-degree criminal misdemeanors, threatening and prosecuting, in addition to two felony counts of second degree disorders. conduct, according to Captain Tim Symons.
Last Friday, police began filing complaints from neighbors about their behavior at their home on the 1000 block of Southwest Baker Street, the captain said.
The residence isplex with several units. Rodgers had allegedly broken into other units, broken windows and other elements of the complex.
With information received of neighbors and relatives, officers believed there were mental health issues that contributed to Rodgers' behavior.
The agents used it continuously of-Climbing techniques in an effort to reach an effective peaceful conclusion while ensuring Rodgers safety.
Community outreach specialists, associated with the Yamhll County Department of Mental Health and Human Services, assisted officers.
After several days of trying to resolve the situation, it declined and more immediate action was needed.
Officers contacted Rodgers on Tuesday afternoon and informed him that he was under arrest. Armed with a knife, he attempted to flee through the back of a unit into the complex as officers entered the unit.
He was arrested and a search warrant was served.
Rodgers is being held in Yamhill County Jail without bail and will be temporarily released accused on circuit track Wednesday, May 26th.
He has an open case in Yamhill County. Rodgers was charged last March with a felony first-degree felony. He tried to enter a residence in the southwest Cedar wood Street. A lawsuit for sentencing and sentencing was scheduled for Tuesday, May 25, but he did not appear and an arrest warrant was issued.