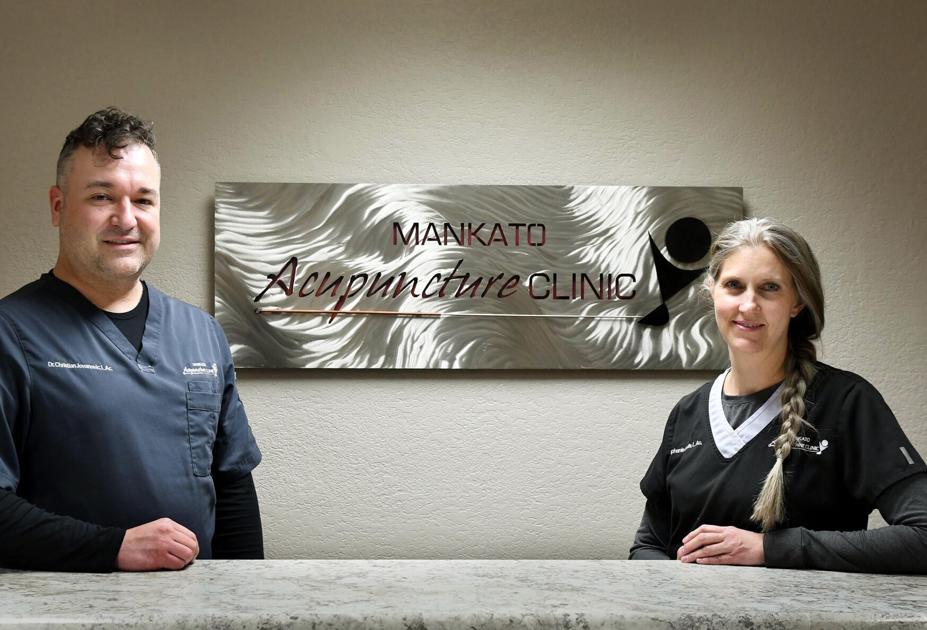 MANKATO — Stephanie Hylla always had a natural curiosity about acupuncture, but it wasn't until she tried it herself that she learned just how effective it could be in treating chronic pain.
"I didn't start getting it until I was pregnant with my fourth baby," said Hylla. "I was having really bad low-back and tailbone pain. I did chiropractic and physical therapy, but it didn't do anything for the pain, so I started getting acupuncture when I was 30 weeks along."
Getting two treatments a week, her pain began to dissipate.
"As long as I did that, it cut my pain enough to where I thought, 'this is very cool. I should do this,'" she recalled.
The more she researched acupuncture, the more fascinated she became by its potential, eventually enrolling in a graduate acupuncture program at Northwestern Health Sciences University in Bloomington in 2008.
During her last year of classes there, she met Christian Jovanovic, a licensed acupuncturist and doctor of Chinese medicine. Jovanovic was an instructor there, and the two became friends.
Jovanovic wanted to return to treating patients directly, as he had done previously for several years at Abbott Northwestern Hospital, so when Hylla proposed he come to work at her own practice, established in 2011, he jumped at the opportunity. Jovanovic joined the business in 2019, located at 709 South Front Street, in downtown Mankato.
The ancient Chinese practice involves the use of needles placed into the surface of the skin, and all acupuncturists are trained to locate and identify 406 acupuncture points on the body, all with specific anatomical landmarks, said Jovanovic. Each point serves a specific function.
"We're also discovering from our Western research that certain points also affect the nervous system, the cardiovascular system or the endocrine system in different ways and in repeatable and predictable ways," Jovanovic said, adding that part of the science behind acupuncture is understanding how to stimulate those points to get the outcome the patient is looking for.
It can be used to treat everything from infertility to mental health issues like anxiety and depression and primarily, physical pain.
"Most of the insurance only covers chronic pain, so that's predominantly what we see here," Hylla said.
Rheumatoid arthritis, a condition that causes excruciating pain in the joints, is one specific ailment that they treat by managing the pain over time.
"I've got some patients who I've been treating for 5-6 years and they still come every month, or every two months, just for maintenance, to manage it," she said.
Hylla said acupuncture is treated holistically, considering the web of mind, body and spirit. When she sees a new patient, she explains how it works using diagrams to help the patient understand the basic process.
"It's a nice way for patients to see and understand that I'm looking at them from a holistic perspective and not just a frozen shoulder or not just the low back pain," she said. "I want to know about your digestive health, I want to know how you're sleeping, your energy levels – all those things play a huge role in our health. We're looking at the whole person."
Restoring balance
In Chinese medicine, the concept of pain can be caused by a number of factors. Jovanovic incorporates traditional Chinese herbs into his treatment when needed.
"When it comes to pain management with herbs, we're not talking about herbs that are narcotic or opioids or anything of that sort," Jovanovic explained. "But the goal is to help restore balance back within the system itself."
The herbs can be taken internally though pill form, a powder or a tea and they also use topical applications – analgesic oils, lotions and patches made from herbal substances.
Hylla said all of the points used in acupuncture are categorized to help her determine what type of needle to use, where to place it and the direction and depth of the needles.
"This is really a healing art and it's not going to be the same treatment for everybody," Hylla said. "Sometimes I look at it like the body is the canvas, the point is the paint, and my needles are the brushes."
It's a field that has become more widely accepted in recent years compared to 2005, when Jovanovic first entered the field. Acupuncture, he said, can play a complementary role among other treatments, like physical therapy, massage and chiropractic visits.
"When I entered into the field you would still get patients who were like, 'I can't tell my doctor I'm getting acupuncture,' because they felt they might be shamed," Jovanovic said. "Then on the flipside, they wouldn't tell their acupuncturist what they were getting treated for by the doctor or what medications they were on."
"We're all here together to help you, so let's all be part of the conversation," Jovanovic stressed to his patients.
It's part of the increasing focus over the past 20 years emphasizing patient-centered care, he said.
"These days, patients have more flexibility to make choices for themselves, so it's really cool to see the patients advocating for what works for them; and being able to realize that it's not an 'us versus them' mentality,'" Jovanovic said.
Oftentimes, treating patients will reveal multiple ailments that are interconnected. Hylla recalls one patient who broke down in tears after years of self-medicating with alcohol to cope with severe neck pain. On her third treatment, the pain level was literally cut in half.
"The most rewarding part is when I have a patient who has tried everything, has been on all these medications or doctors can't figure out what to do with them," she said. "They come here as a last resort and after a couple weeks they say, 'I haven't felt this great in years."