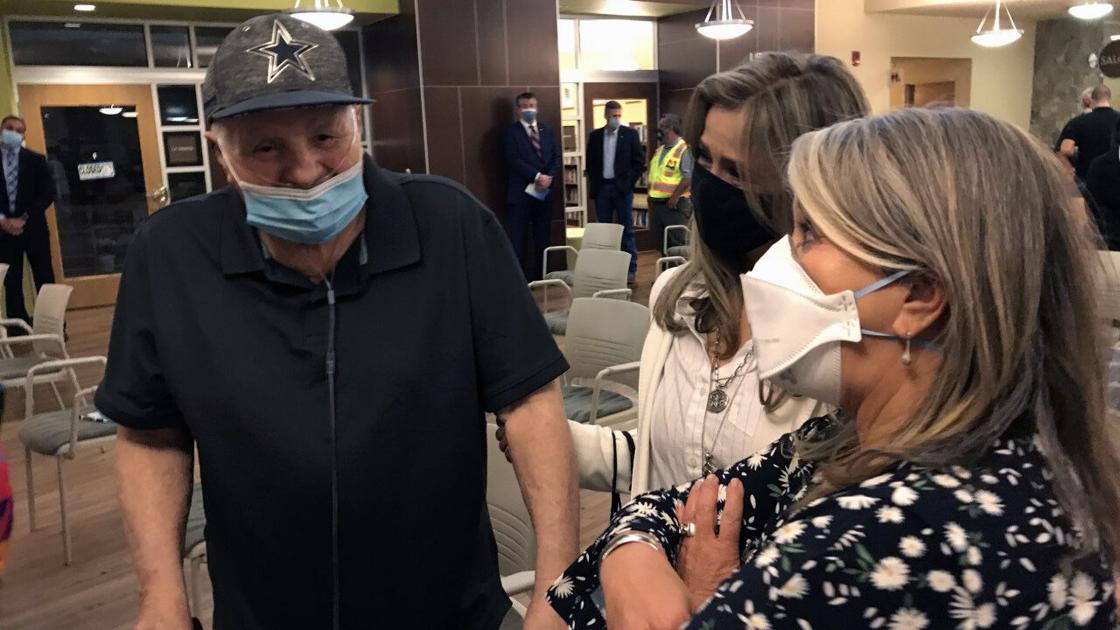 LAS VEGAS, N.M. — Nursing care and psychiatric help for the same patient population can test a staff, but the state of New Mexico says it has a place that handles the challenge skillfully.
Gov. Michelle Lujan Grisham and others on Tuesday celebrated the completion of a new resident wing at the Meadows Home of the New Mexico Behavioral Health Institute. The $24 million construction project added space for 54 beds to go with the 108 existing beds at the facility on the state Behavioral Health Institute campus on Las Vegas' west side.
Lujan Grisham rushed into the building 20 minutes late, met and greeted folks and climbed a high stepladder that boosted her short frame well above the podium. She cracked a joke about towering over all.
Then she described the Meadows Home as a state-of-the-art place that blends features "so it feels good, it feels right" for those who live there.
"Congratulations for an incredible project and thank you for your compassion and vision," she said to staffers and administrators.
Maxine Prezbindowski and Barbara Sanchez, sisters who were there to visit their dad, expressed contentment with the care the Meadows Home gives him.
"He loves the staff," Prezbindowski said. During the coronavirus challenge, Barbara Sanchez said, 85-year-old Max Sanchez appreciated "that they worried enough to keep him safe."
Then Max Sanchez came slowly down the hall behind his walker. He wore a Dallas Cowboys cap, comfortable athletic shoes, khakis and a blue golf shirt. The daughters hovered over and around him, doting with delight. Barbara Sanchez stroked his back while Prezbindowski leaned toward him from the side.
The Meadows Home replaced an aging nursing facility at the Behavioral Health Institute. It opened in 2012 with 36 beds. The nursing home expanded to 108 beds in 2014.
The new wing, which is expected to open for occupancy in a month, gives the home a total of 162 beds.
Lujan Grisham and others said it's a rare facility that accommodates people who need mental health services as well as daily living assistance for things such as bathing, changing clothes, mobility and eating. Most of the residents are elderly, although there are some at the Meadows Home in their 50s.
Tim Shields, executive director of the Behavioral Health Institute, said nursing homes struggle to serve residents who might wander or grow agitated or angry. Further, state and federal regulations make it hard to provide some nursing home accommodations, such as allowing a resident to keep his own money or food, to patients with behavioral problems.
He said there aren't a lot of these in the country, and as far as he knows, there is only one in New Mexico. "There isn't one that does exactly what we do."
Shields said the Meadows Home has two psychiatrists available, a psychologist, and staffers with geriatric certification and behavioral health training. Psychiatric help can be summoned anytime during the day or night, he said.
The staff currently totals 137, and Shields needs additional staffers for the new wing.
The Meadows Home also strives to give a neighborhood feel and has a store and salon, a private dining room that can be reserved by a family, a veggie farm that is used for group picnics, and other outdoor areas for relaxation and recreation. 
One-third of the new wing will be for residents with dementia and Alzheimer's disease, and the outdoor exit in that area will be locked.
The new wing contains earth tones and wood floors, bright lighting and large windows in its rooms.
Max Sanchez toured the new wing with his two daughters.
"Is this my room?" he said of one of the new apartments. It wasn't, but his daughters said it's possible they might decide to move him to the new section.
Prezbindowski said her father has Parkinson's disease and dementia.
Asked about his Cowboys cap, Max Sanchez said he has been a fan of that team since the University of New Mexico's Don Perkins had a fine career as a running back with Dallas in the 1960s.
On Tuesday, Max Sanchez was sharp and on his game.
### [ad_2]
Originally Appeared Here