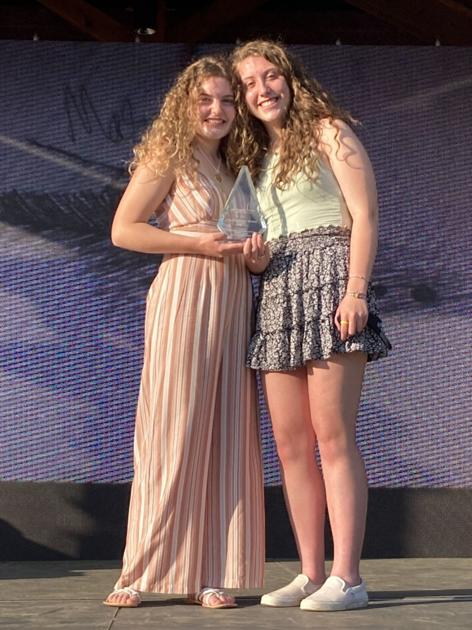 Fear and hope, isolation and resistance: this is how the pandemic was seen through the eyes of children.
The Magnify Voices Expressive Arts Contest offers high school and high school students the opportunity to shed light on mental illness through creative writing, song, film, and the visual arts. And this year the health crisis spread.
An awards ceremony held on the outdoor stage of Derry's Tupelo Music Hall on May 20 honored more than a dozen contest finalists. Students and their families sat in cars and lawn chairs in the parking lot in front of a large screen depicting their artwork, videos and written words.
The issues they faced were dark, but the atmosphere was festive.
Amy Murphy, 18, who is graduating from Salem High next month, and Erin Murphy, 15, a sophomore at Windham High, won an award for Excellence in Production for their video , "Dear Younger Me". Teenagers are cousins ​​and close friends.
His film also won the People's Choice Award, voted for by all attendees.
"The best way to end the stigma is to be here and connect and share," Amy said as she accepted the award.
Kianna Munroe, an eighth-grader at Kingswood Youth Center, was a finalist in the middle school category for her essay on a young man contemplating suicide. "Today is the day I escape," he wrote. "Escape all the pain."
Instead, the girl stretches out and finds help. "Life is hard, but I'll get over it," he decides.
Grace Marshall, a sophomore at Dover High, was a finalist on her song "What They Tell Us," about how people often say she's fine when she's not.
The contest was sponsored by state agencies and organizations that advocate for children's health.
High school: Nora Lyford, Boscawen; and Maggie Dobra, Cooperative Middle School.
High school: Oswald Doherty, Goffstown High School; Opal Shinnlinger, Mascoma Valley Regional High School; Rhianna McDonald, Mascoma Valley; Jenna Tschida, Goffstown High; Ainsley Coyle, Goffstown High; and Broden McCune, Ty Gallagher and Emma Roussel, Goffstown High.
Moira O'Neill, a New Hampshire state child advocate who judged the high school contest, called on all participating students to be heroes "for having the courage to show us the truth and lead the way."
"Please keep creating art," he told them.
New Hampshire children's governor Charlie Olsen, 10, was on the middle school competition jury. The fifth-grader at Auburn Village School said he was surprised by the high quality of his classmates 'tickets. "They were all good, but some were exceptional," he said.
Charlie said he struggled with depression after the pandemic sent his school to remote learning. "I'm a social kid," he said. "I like being on the side of friends and other people, and not being able to was difficult."
His fellow judge and co-presenter of the middle school awards was former state Supreme Court Chief Justice John Broderick, who has visited hundreds of middle and high schools over the past five years to talk to students about mental health.
"I love this generation of kids," Broderick told those who gathered. "They're going to change that culture and they need it."
Erin Murphy said she has struggled with her mental health in the past and agreed that forced separation caused by the pandemic was difficult. "I'm a very social person," he said. "I trust being around my family all the time, being with friends, learning at school, seeing people. It keeps me motivated; it reminds me of who I am and why I want to keep moving forward. "
"And with the pandemic, we weren't doing it, so it was very isolating."
It was Erin's idea to write a letter of encouragement from a future self; Amy Murphy provided the technical and artistic experience. The cousins ​​drove about 300 miles (from Franconia Notch to Hampton Beach) to film the evocative images that form the backdrop of the voice-over.
"People care about you and want to be there for you, and you'll find those people," the letter writer explains. "I promise things will get better."
The cousins ​​said no one talked about mental health until they got to high school. This conversation should start in middle school, which is the hardest time for many children, they said.
"You feel like you're the only one who feels that way, but everyone is on the same boat," Amy said.
This is what she wants Erin to know other children who have difficulty knowing: "There are parts of life that are more difficult and they are allowed to be upset. But in the future, it will make you happy to stay. "
O'Neill said he was amazed at how deep the pandemic has affected these young people, as evidenced by his art, where images of masks and isolation were common themes.
"What's fascinating about this generation is that they're very comfortable, and we call it brave, that they explain it as it is," he said.
With lawmakers working on the state budget, including funding for mental health services for children, O'Neill urged political leaders to take the time to see students 'art.
"The kids have done their job taking out the problems and their experiences," he said. "As adults, we create a system that responds to that."
Olsen received a message for other struggling students, "I just want people to know that you can get over it and that you're not alone," he said. "Because when you're depressed, you feel like you're all alone and there's no one else.
"But there are people who support you."