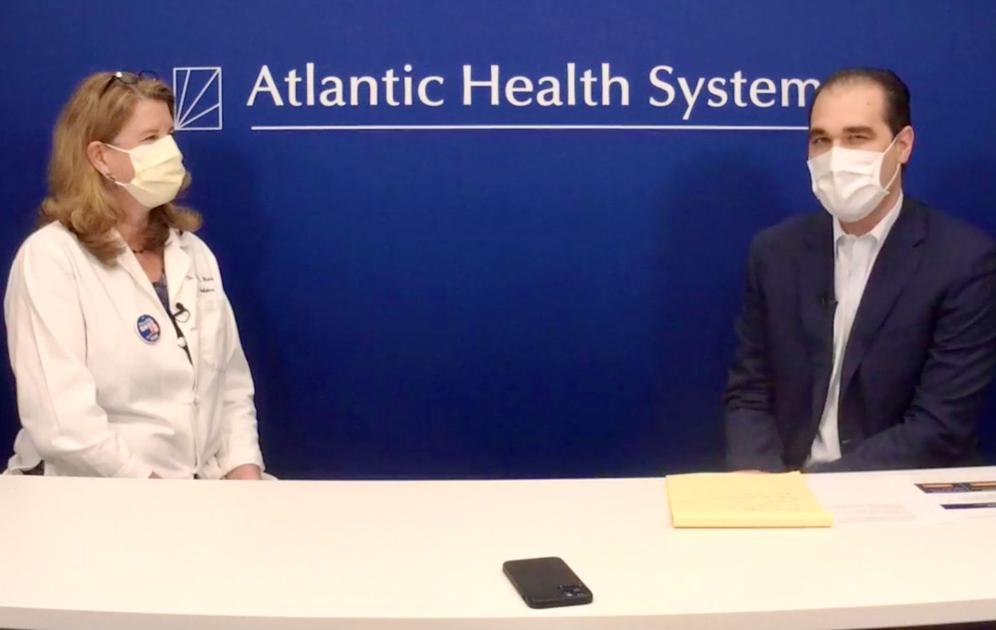 MORRISTOWN – Luke Margolis, Corporate Communications director for Atlantic Health Systems, had reason to sound excited.
"Here's something I think we're all stoked about, a return to summer activity," Margolis said as he welcomed Atlantic Health pediatrician Dr. Sarah Nielsen joining him in a Facebook Live Community Conversation via Atlantic Health on Thursday, April 15 to talk about childhood health and safety, whether children are at home or at camp.
Nielsen also expressed optimism but she took into account the difficulties people have faced during the COVID-19 pandemic.
"Everybody's having a hard time," she said. "Kids are struggling, parents are struggling, how to stay employed when you have to be a teacher to more than one child who have different ages, different schedules. Some families have one child on virtual (learning) and another who's not. Trying to arrange childcare it's almost impossible."
The pediatrician spent time discussing unrelated Covid activities every parent of every child needs to be aware of moving ahead into the warmer months.
"Healthcare in general has been a challenge this year," she said. "A lot of people let things go. That wasn't always inappropriate but sometimes things got dropped. We want to get everybody back into the office in a safe way, address all those healthcare needs, which include routine vaccinations."
Nielsen spoke of the usual basics for children in the warmer months: hydration, sunblock, bug spray.
She said with Covid protections, even toddlers want to wear masks, though they're not required to. "But they see other kids wearing them," she said. "They say, 'I need my mask, I want to look like you.' It's that type of modeling behavior I rely on."
Nielsen was asked a question posed by a listener who wanted to know about children playing in the neighborhood "because kids will take their mask off as soon as they're outside."
Nielsen said parents can assume that if their kids "are playing together out of your sight they are taking their masks off."
"When it comes to making decisions on how you want your child to be exposed, I think at this moment the only choice is to find a group that shares your practices and that's how you're going to feel comfortable at the end of the day," she said. "You want to feel that you've done the best for your family. If you're comfortable with them not wearing a mask and have a group where that's comfortable, then that's what's right for you. But if you feel you have a neighbor who isn't doing the same level of caution that you are then that's not comfortable for you and you shouldn't put yourself in that position."
She noted the Centers for Disease Control and Prevention (CDC) has issued guidelines.
"They're not hard and fast rules but they're guidelines," she said. "Any (camp) where you're sending your children should have a protocol that reflects some of those guidelines. It's reasonable to ask what their guidelines are. I would be surprised if there was no protocol but there should at least be 'a' protocol."
Nelson said there is no vaccine yet for children under the age of 16 even as one is being worked on. She said children tend to have fewer cases of Covid infection but they tend to inch up when there are more cases in the adult population.
Nielsen noted she is very happy about the current vaccination rate.
"I look at that ticker every day," she said. "It makes me excited, hearing the parents of my patients tell me 'I have my appointment,' 'I had my first shot. or 'I finished both shots.' I literally applaud."
Nielsen looks toward the future positively. She noted that during the pandemic, parents have tried to keep their children occupied with YouTube and other technologies.
"I think this is a great moment to pivot, to actually connect with humans in your life," she said. "So, get outside and move. To start moving toward normalcy start looking for normalcy while keeping your safeguards: masking, social distancing."
"I think we can do both," she concluded.