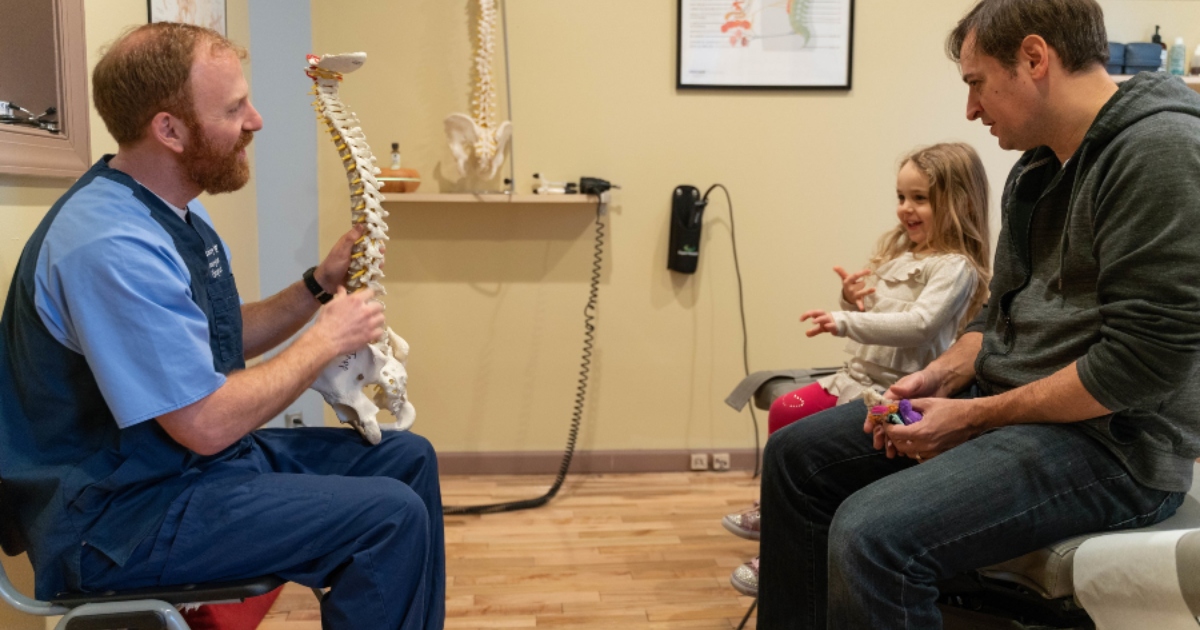 For when you need help getting your body back into alignment.
We get it. It seems like almost everyone is going to a chiropractor these days, especially after spending so much time hunched over computers, working at our at-home makeshift office spaces. But chiropractors treat more than just back and neck strains. Practitioners can help alleviate aches and discomfort in your joints, plus tension from headaches and even sinus congestion.
If you're searching for a pro who can relieve that pestering crick in your neck, these 13 local chiropractors offer services that treat back pain, migraines, and everything in between.
Brewerytown Chiropractic
2712 West Girard Avenue, Brewerytown
This wellness destination offers traditional chiropractic options, along with nutritional plans, and specialty treatments for expecting mothers. Founder Zachary Tripp is certified in Webster technique, which uses sacral adjustments to restore pelvic biomechanics, relieve ligament pain, and prepare the body for labor. In addition to mom-to-be services, Brewerytown Chiropractic offers modalities designed for competitive (or recreational) athletes, as well as ones geared toward children. Initial visits are $100, with follow-up sessions priced at $50.
Core Performance & Rehabilitation
2981 Grant Avenue, Suite 202, Northeast Philadelphia
For over 25 years, Stuart Himmelstein and his team have been helping residents in the greater Northeast snap back into shape. A veteran in Philadelphia's chiropractor community, Himmelstein specializes in treatments that manage chronic pain, as well as conditions resulting from sudden injury. He's also the official chiropractor for the Philadelphia Blue Flames, Philly's police and firefighter football club. The Northeast center also boasts a number of care options including spinal decompression therapy, cupping, and gua sha.
Experience Chiropractic
992 Old Eagle School Road, Suite 902, Wayne
This Wayne-based chiropractic treats a range of conditions, including whiplash, sciatica, and pelvic pain. They pride themselves for their comprehensive services, from pregnancy chiropractic to sports therapy and electrical stimulation. Plus, founder Brandie Nemchenko is a former paramedic, so she's used to helping others in their biggest times of need.
Hava Rose
Mobile
Local chiropractor Hava Rose offers private chiropractic care in the comfort of your own home, plus body work for local companies and their employees. During your initial 30-minute consult, Rose will analyze your posture, and the two of you will work together to create a plan for achieving a healthier, less painful movement experience. Opt for virtual ($50) or in-person ($100 per 20 minutes) sessions, monthly packages ($325 for four adjustments), or annual memberships. Rose also offers journal coaching through her program, The Write Echo.
The Healing Arts Center
Multiple locations
The services offered at the Healing Art Center are integrative by designed. Their four offices offer a mix of acupuncture treatment, IVF support, and even Tai Chi. For new patients, an initial visit will cost $95, and for your convenience, you can view the full calendar for upcoming appointments online.
The Joint Chiropractic
3520 West Chester Pike, Newtown Square and 2162 County Line Road, Huntingdon Valley
The Joint was started with the goal of making routine chiropractic care more affordable for families of all income levels. Patients can purchase a $69 monthly membership to visit up to four times per month (additional visits are just $10), or opt for one of their prefixed packages so you can visit up to 20 times per year.
Main Line Concierge Chiropractic
Mobile
For those looking for a more personalize experience that doesn't require you to go anywhere, Main Line Concierge Chiropractic is the perfect option. Founder Rodney Gabel offers an array of mobile care options so you can enjoy the benefits of chiropractic treatment from the comfort of your living room, front driveway, or office (with employer approval, of course). Book a 45-minute initial examination and treatment for $149, with subsequent visits costing $89.
Optimum Health Chiropractic
8945 Ridge Ave, Suite 2, Roxborough
There are many things to love about this Roxborough practice, but our favorite is their focus on chiropractic care for the entire family. And yes, that includes sessions for the rambunctious toddler in your life. Owner Dawn Cute has been providing chiropractic care to infants and children for years, helping to correct poor posture, relieve aches, and prevent potential pain or discomfort. Her patients visit Optimum Health Chiropractic to address concerns like infantile colic, constipation, bed wetting, and more.
Philadelphia Chiropractic
33 South 3rd Street, Old City
Opened in 2011 by Don Rocklage, this Old City mainstay truly has your back, treating nervous system conditions like back pain, numbness in the extremities, and posture correction. Plus, if you're looking to alleviate tension at home, opt for their customized therapeutic exercise program.
Rittenhouse Square Chiropractic
1608 Walnut Street, Suite 601, Rittenhouse
Sure, you probably have a gym routine in addition regularly scheduled appointments with a chiropractor, because self-care is important. But why not enjoy the best of both worlds with a wellness experience that offers chiropractic services, plus all the tools you need to move your body in ways that are pain-free? From personal training to functional medicine and nutritional counseling, Rittenhouse Square Chiropractic provides a slew of treatment options to help you reach an optimal state of physical and emotional well-being.
Samsel Integrative Health
305 Corporate Drive East, Langhorne
Samsel Integrative Health combines chiropractic care and therapeutic exercise for a treatment experience that is holistic in nature. Led by Katie Samsel, the Langhorne practice specializes in caring for common chiropractic concerns related to osteoarthritis, joint dysfunction, and sciatica. Bonus: Check their Facebook for tips and remedies for conditions like tennis elbow, runner's knee, and pregnancy-induced back pain.
Waitkevich Chiropractic
9251 Roosevelt Boulevard, Northeast Philadelphia
Founded by husband and wife duo, Andrew and Jessica Waitkevich (both of whom are board certified chiropractic physicians), Waitkevich Chiropractic aims to help patients relieve acute and chronic spinal and muscular disorders, with emphasis on sports chiropractic. The center also offers NormaTec compression and cold laser therapies, so you walk out feeling your best self.
Wolfson Wellness Family Chiropractic
254 South 11th Street, Washington Square West
If you've never been to a chiropractor, attending your first visit can be intimidating. But thankfully, Wolfson Wellness Family Chiropractic is a judgment-free zone and provides introductory consultations to all new patients. Owner Mathew Wolfson believes chiropractic care is like a house and should be constructed in phases — the first providing relief, followed by a corrective phase focusing on restoring muscle and tissue to a performative state.
###[ad_2]
Originally Appeared Here