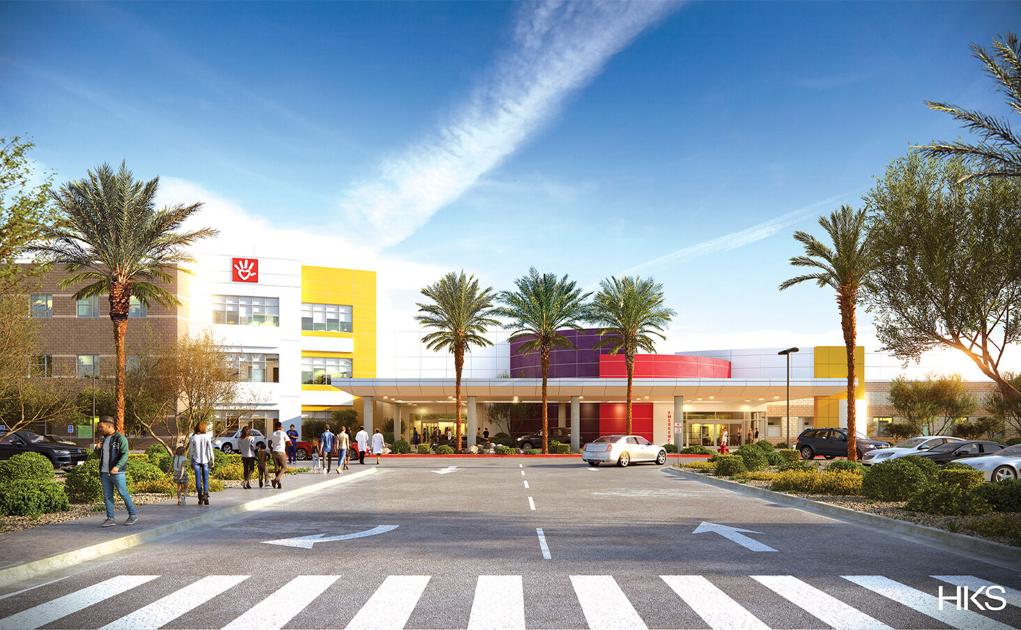 As the West Valley's population is expected to grow at twice the national rate over the next five years, increasing the demand for children's health services, Phoenix Children's Hospital broke ground on its Southwest Campus in Avondale on June 30. 
Phoenix Children's will invest $39.9 million to build and equip a new 71,250-square-foot, three-story medical office building and retrofit the existing 35,000-square-foot building to provide emergency services. 
"Expanding this site in the West Valley is part of a multifaceted plan to bring care right into the communities of the families Phoenix Children's serves," said Robert L. Meyer, president and CEO of Phoenix Children's. "Not only will this site expand speciality care services, but it will also answer a pressing need for emergency care for children." 
The opening of the Southwest Campus is part of a larger strategic effort by Phoenix Children's to expand access to care for families in the West Valley and throughout the state. 
The groundbreaking in Avondale follows last month's announcement of Phoenix Children's Hospital's Arrowhead Campus, which will open in Glendale in 2024. 
The emergency department will offer 24/7 pediatric emergency care, providing the West Valley access to physicians in more than 75 pediatric subspecialties; 40 triage, treatment and resuscitation rooms; six fast-track beds; ultrasound, CT, fluoroscopy and digital radiography. 
It is expected that the emergency department will treat more than 40,000 children annually. 
The multispecialty clinic will offer expanded services in 25 specialties, including allergy/immunology, cardiology, dermatology, developmental pediatrics, endocrinology, fetal development, gastroenterology, general surgery, genetics, hand, neonatology, nephrology, neurology, neuropsychology, neurosurgery, orthopedics, pain management, plastic surgery, psychiatry, psychology, pulmonology, rheumatology, rehab therapy including speech therapy, sports medicine and urology.
The clinic will also offer more than double the number of patient rooms, from 27 to 68.
The emergency department is set to open in winter 2023 and the specialty clinic in fall 2022. 
While there are more than 30,000 pediatric emergency visits each year in the Avondale area, there is no pediatric-specific option for emergency care. Demand for children's specialty care also is on the rise. 
Meanwhile, the West Valley's pediatric population is projected to grow from more than 400,000 today to nearly 500,000 by 2030, which will increase the need for pediatric-specific health services.
An emergency department in the West Valley will impact patient outcomes, according to Dr. Julie Augenstein, a pediatric emergency medicine physician. 
"Currently our emergency care services have only been available on our main campus in central Phoenix. In a place of this size, in terms of metro Phoenix, this means kids with acute injuries throughout the Valley often wind up in adult emergency centers," she said. "Kids are not just small adults. I feel like that's our common phrase that we use, but they really do have different medical developments. At Phoenix Children's we have clinicians that are trained specifically in pediatrics." 
Augenstein enforced the growing need for pediatric-specific care, as well as the many benefits the new emergency department will provide patients, as it will be staffed with professionals trained in treating children, as opposed to adults. 
"When we open our emergency room in Avondale, it will be staffed with the same pediatric experienced providers, well-trained nurses with the right experience and that know how to triage these patients, child life specialists that know how to provide distraction techniques, radiology, radiology techs that know how to dose dependent and size-appropriate care for families in the West Valley. The emergency department will be a new and better option for accessing the best possible health care," Augenstein said. 
During the groundbreaking event, Meyer announced additional expansion projects in the West Valley, including a facility in Peoria.
"We have additional plans in store that will make a real difference for West Valley families," Meyer said. "Our most important responsibility is to provide the right care, at the right time and place, to children in our community."
Avondale Mayor Kenneth Weise said the new facility speaks to the growth of the city and the need for a local emergency department for children. 
"Over the last nine years, just the growth that we've seen in West Valley is incredible. I think having this facility in Avondale, along with the sports medicine facility, says a lot about Phoenix Children's Hospital's commitment to Avondale and their faith in how we do things and what we're doing," Weise said. 
In addition to the economic impact, Weise said the Southwest Campus will allow a much closer option for families to take their children when they need emergency care. 
"Having this facility here does make a difference, especially when you're dealing with kids who may be hurt and they don't understand why they're hurt and they want to be with their parents. Phoenix Children's does a great job of integrating parents and their kids, but giving the parents the option of having a facility that's a few minutes away as opposed to maybe 45 minutes in traffic, that's a big deal," he said. 
The Southwest Campus will be built on the site of Phoenix Children's Southwest Valley Specialty and Urgent Care Center at 1665 N. Avondale Boulevard. 
For more information, visit
phoenixchildrens.org. 
###[ad_2]
Originally Appeared Here