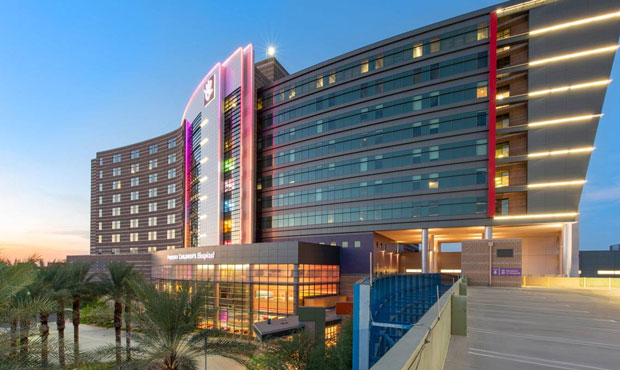 Phoenix Children's Hospital today announced plans to build a $ 135 million independent hospital (Phoenix Children's Hospital – Arrowhead Campus) in Glendale.
READ ALSO: This is how West Valley health is driving the economy
Phoenix Children will soon open ground at an independent hospital and a new multi-specialty clinic in Glendale. Phoenix Children's Hospital – Arrowhead Campus will offer hospitalization services, surgical care, pediatric emergency services and more than 25 high-demand subspecialties in cardiac care, neurology, general surgery and cancer.
"The West Valley is booming. The population is expected to grow at twice the national rate over the next five years and children account for a large share of that growth. It is estimated that the number of children will grow by 25%, from the current more than 400,000 to almost 500,000 by 2030, "said Robert L. Meyer, CEO of Phoenix Children's Hospital.
Phoenix Children expects more than 76,000 annual visits to the Arrowhead campus and serves approximately 1,250 children who would otherwise have had to travel to the center's campus. The Arrowhead Campus represents a $ 135 million investment in Glendale and the creation of 473 jobs.
"Phoenix Children's investment ensures that families in Glendale and West Valley have access to quality health facilities. I am confident that Arrowhead Campus will help families with their health care needs by providing access to specialized professionals and first class services in a convenient location. The facilities will ensure a better quality of life for residents, with access to beds, operating rooms, trauma areas and ample medical office space for children's specialized services, "said Glendale Mayor Jerry Weiers .
The Arrowhead Campus is part of a multifaceted investment in the West Valley. In March, Phoenix Children's Hospital announced the Southwest Campus and Sports Medicine Clinic, both located in Avondale.
"All in all, we've invested about $ 200 million in West Valley and brought in 650 jobs," Meyer said. "We may have Phoenix in our name, but we are a resource for the valley and the entire state."