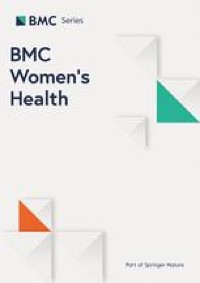 Study design
This cross-sectional study took place in January and February 2019 at An-Najah National University, which is the largest university in Palestine with students from all over the country. The university has three main campuses, two in Nablus city and one in Tulkarem city. A total of 433 female students from different faculties in the three university campuses located was randomly invited to join the study and sign the consent form. A definite number of students from each campus were invited to join the study. The sampling was done using stratified random sampling. The collected data include students' scoio-demographics, medical history, life style, dietary behaviors, psychosocial and premenstrual syndrome. The response rate was 91.9% as 35 participants were excluded from the final analysis due to missing data. Inclusion criteria were female students at An-Najah National University who agreed to get involved in the study. Those who were pregnant or disagreed to participate where excluded from the study. The researchers verbally informed all participants about the study objectives and provided them with written consents. Participants who signed the contest were included in this study.
Sample size
The sample size was determined using a single proportion for a finite population. Sample size calculations using G power software with an alpha of 0.05 (two-sided) and 80% power, indicated that a minimum of 200 participants was needed to determine a prevalence of PMS. To determine the association between PMS and dietary habits, psychosocial factors, the sample size was recalculated with mean difference test, 5% level of significance, (80%) power, giving a sample size of 380 participants.
Collected data and study instruments
In this study, female university students filled a self-administered structured questionnaire that included personal information and dietary habits questions, Depression, Anxiety, and Stress Scale (DASS-21) questionnaire [18], and the validated Arabic Premenstrual Syndrome Scale (A-PMS) [19].
The questionnaire included 20 personal information questions on Scio-demographic characteristics (age, academic year, faculty, living place, nature of living, marital status, monthly income, work, and university fee), smoking, physical activity (working out at the gym, working out at home, walking, work required physical activity), and medical history (chronic diseases, medications, surgery, screen, and sleeping time).
For dietary lifestyle assessment, height was self-reported and weight measurement was done by a calibrated electronic body weight scale. Body mass index (BMI) of participants was calculated by dividing body weight (kg) to height (m) square (kg/m2). In addition, a selected 24-item questionnaire on daily dietary habits based on a validated food frequency questionnaire from a previous study on a Palestinian sample was used [20]. Items included: eating 3 meals, eating breakfast, type of bread, eating fruits, eating vegetables, drinking milk, drinking caffeinated beverages, drinking sweetened juice, eating sweets, eating nuts, eating chips, taking dietary supplements, following a diet, satisfaction with dietary habits, body weight, and body shape, and source of nutrition information. Participants were also asked about their dietary habits during menstruation. The habits included: drinking herbal tea, type of herbal tea, food preferences and types,, and food avoidance and types. Additionally, they were asked if their menstrual cycle is regular.
The Arabic validated version of DASS-21 questionnaire included 21 questions to evaluate psychosocial status [18]. In this tool, the participants should answer the questions according to their current situation (during the past week) using 4-point Likert scale (1 = never, 2 = sometimes, 3 = often, and 4 = always) and each answer has a given score. The severity of depression, anxiety, and stress was calculated by the sum of their' answers scores multiplied by 2 [21].
A-PMS diagnostic tool developed and validated by Algahtani and Jahrami (2014) was used for assessing PMS symptoms prevalence and severity. This tool included 23 questions on PMS symptoms categorized into psychological (depressed mood, hopelessness, feeling guilty, anxiety/ worry, affective labiality, increased sensitivity toward others, feeling angry, easily irritated/ agitated, lack of interest, difficulty in concentrating, loss of control, and feeling overwhelmed); physical (lethargy/ fatigue/ decreased energy, increased appetite, craving certain foods, hypersomnia, insomnia, breast tenderness, breast engorgement or weight gain, headache, muscle, joint, abdominal, and back pain, and acne); and behavioral (symptoms interfering with relationships, work or school, or daily routine). Each question has a 5-point Likert scale (never, sometimes, often, always and severely) and each answer has a given score. PMS symptoms categories' severity among the sample was calculated by the mean of each category's questions score [19]. Both DASS-21 and A-PMS questionnaires were interview based, where participants answered questions verbally and the researcher recorded it.
Validity and reliability
The validity of the Arabic versions of DASS-21 and A-PMS questionnaires were verified and established in previous studies indicating their appropriateness for Arab samples [18, 19]. In this study, the internal consistency reliability using Cronbach's Alpha was used to examine the reliability of the two questionnaires (i.e. DASS-21 and A-PMS Arabic versions). The Cronbach's values were very high for both questionnaires, 0.913 and 0.910 respectively.
Statistical analysis
Data were coded and analyzed using the Statistical Package for Social Sciences (SPSS) software version 23. Continuous and categorical variables were analyzed by frequency and descriptive analyses. One-way ANOVA and Chi-square tests were used to evaluate the association between Socio-demographic characteristics, dietary habits variables, and PMS symptoms. Univariate and multivariate simple linear regression analysis tests were done for investigating the relationship between PMS symptoms and psychosocial status and physical activity hours. Pearson correlation test and multiple linear regression test were conducted to evaluate the relationship between PMS symptoms and BMI and psychosocial status variables.
[ad_2]
Originally Appeared Here