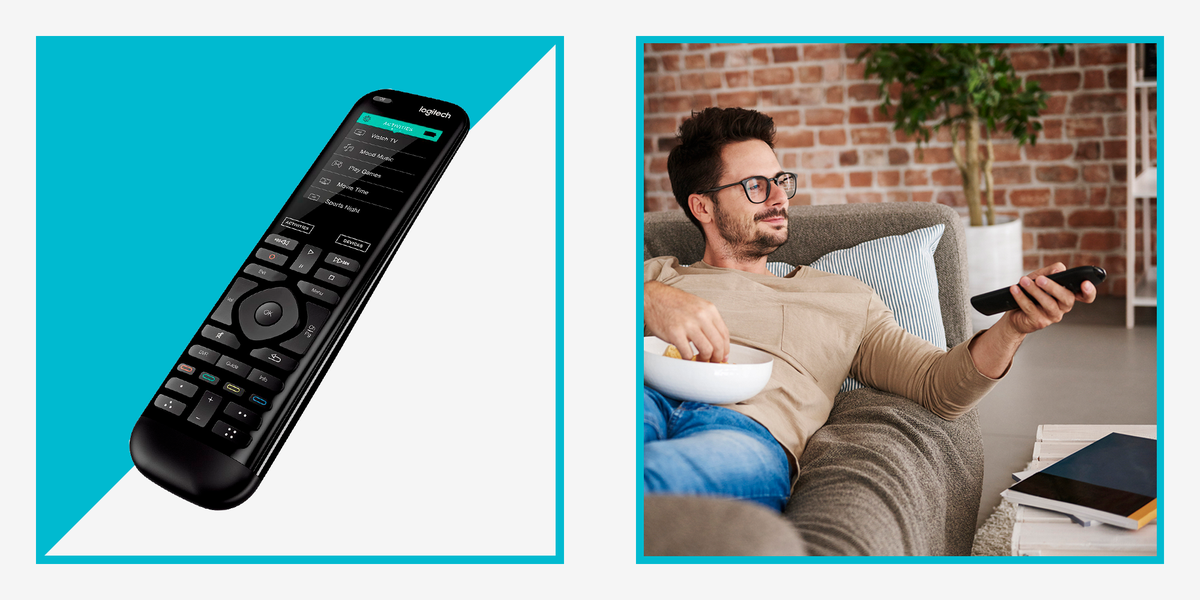 You just got home from work and are ready to kick back, enjoy a drink, and binge the newest, hottest HBO Max show. Or maybe spend a couple hours with your game console. Or just spend an hour vibing with your Sonos speakers in the tub. It's definitely something to look forward to—but there's one snag.
There's the remote for the TV, the remote for the Roku, the remote for the soundbar, the remote to fire up the console… and you can't find the one you need. You get the idea.
You, my friend, need a universal remote.
What Is a Universal Remote?
A universal remote is a handy-dandy single remote can control your television, console, set-top box, what have you. They're typically better designed than your run-of-the-mill TV remote, and set up is typically a breeze. With a universal remote, you only have to remember where one remote is instead of five or six of them—a huge convenience.
So What Is the Best Universal Remote App or Device?
The short answer is: whichever one works best for you and your devices. Not all universal remotes work the same—some work with certain brands, others don't. The best universal TV remote is obviously going to be one that works for your TV. The best universal remote for Apple TV also has to hit that note. Ditto Samsung TV, Roku, and so on.
Which is the best universal remote to buy? The short answer for the best option to buy is the one that works for your stuff. Obviously.
But there's a few other things to definitely keep in mind when you're shopping for a universal remote.
The sheer array of devices you can connect to your remote can be dizzying; you want an interface that's intuitive. Without that, you'll be spending hours clicking around—then what's the point of a remote that can do all things at once if it's so inconvenient?
What are Some of the Other Benefits of Universal Remotes?
Speaking of convenience, the best universal remotes—or many of the best, in any case—often come with an accompanying app that you can use to set it up. This makes the entire set up process simple and easy when it comes to universal remotes. Once upon a time, set-up was a whole lot more cumbersome… it could possibly take whole hours from your day.
In some instances, you can even use your smartphone as a universal remote. There's an app for that. Many universal remote apps are perfectly adequate, but they may be a little less capable than their physical remote counterparts.
Is a Universal Remote Worth It?
We definitely think so. Especially if you've lost your old remote (oh boy) or are just looking for a more streamlined experience in your living. Plus, those voice-activated devices (like the Apple HomePod) that could replace some of the features of a universal remote can be really, really annoying.
So, without further ado, check out the best universal remotes (and universal remote apps) of 2021 below. And be sure to pick one up for a much more seamless entertainment experience.
Logitech Harmony Elite Remote Control, Hub, and App
The Logitech Harmony Elite universal remote is easily one of the best universal remotes out there, boasting compatibility with over 270,000 devices. And that includes more than just TVs, but smart home devices like lights and thermostats. It's Logitech's best universal remote. 
With the accompanying Harmony app, set up is a breeze, and it even allows you to control devices while you're not at home. If you're missing your voice-activated devices, it also works with Google Home and Amazon's Alexa. 
The Harmony Elite is equally as impressive when it comes to the device's design—it's hefty enough that it's difficult to lose (though watch us try), and it includes a simple, stark touch screen and large physical buttons. It even comes with presets for different moods of music and different movies you can program. 
So while it's perhaps not the most budget-friendly option, it's certainly one of the most comprehensive, working with Roku, Apple TV, and more.
Caavo Control Center Smart Remote and Home Theater Hub with Voice Control-Lifetime Plan
Cavvo's universal remote all starts with the HDMI Switch+Control Hub: a set-top-box-like device where you can plug in your TV, gaming console, soundbar, and what have you. From there, everything is controlled with the accompanying smart remote.
The hub's interface is intuitive and simple—so simple that your kids can control it, if you so desire. And the hub acts as sort of a smart device in and of itself: it can detect when to power on what device for your desired activity. It's compatible with Apple TV, Sonos, Roku, Amazon Fire TV, and plenty of other services and devices. 
A universal remote wouldn't be complete without voice control, though, and of course the Caavo comes with that—so you can select your channel with nothing more than your voice. And if you're worried about the quality of your picture with the Caavo, don't sweat it: the hub supports 4K Ultra-HD picture. 
Logitech Harmony 665 Universal Remote Control
If you're looking for a great universal remote but not willing to shell out the dough for the Logitech Harmony Elite, the Harmony 665 is a decent, more budget-friendly compromise. 
Like the Harmony Elite, it's compatible with over 270,000 devices, including, of course, Apple TV, Roku, and more. As long as the TV you're controlling uses infrared, you should be able to pair it. It's only capable of controlling up to 10 devices, but then again, if you have more than ten… jeez. One of the key features of the Harmony 665 is the ability to pre-program 23 buttons, so you can zoom right to your favorite channels or devices. 
A few of the extra bells and whistles that should be noted: the buttons are bright and backlit, giving it a premium feel and, of course, able to see better in the dark. If you're having any issues at all, an on-screen help feature can walk you through how to fix any issue that comes up. And you even have the option of setting it up via your Mac or PC with the MyHarmony free software. 
Function101 Button Remote for Apple TV/Apple TV 4K
If you're a little sore from Apple's remote from their TV—after all, it can be a bit finicky—then pick up this universal remote that works exclusively for the Apple TV. It's by far the best remote for the Apple TV, and works both with the regular Apple TV and Apple TV 4K.
It comes with Infrared tech already on it, so it's capable of turning your regular TV on, and makes every single function of the Apple TV easier and more intuitive, including controlling the volume, muting, and even powering it on. It also can sync with Sonos, so your sound system is taken into account. It works right out of the box; simply point, tap, and watch. 
At only $40, it's totally worth it over the headache that the Apple TV remote can be. So if you've got an Apple TV, this should be a no-brainer. The only downside: no Siri or voice control ability. But that's something we don't think we'll miss too much.
AnyMote Universal
apps.apple.com
When it comes to apps that control your devices, they can be few and far between in terms of their capabilities. The best of the bunch is surely the AnyMote Smart Universal Remote—available on the Apple App Store and Google Play.
When you download the AnyMote app, you essentially create separate remotes for each of your devices on your smartphone. The app is capable of linking to your TV, supporting multiple brands of Infrared-based TVs as long as you have an IR blaster that lets you control infrared with your phone. That includes Sony TVs, Toshiba, what have you.
It comes with a suite of other features, including automated tasks, which lets you set commands to automatically happen in the app, and voice control, whether it's Siri or Google Assistant. And it does so much more than just entertainment, including controlling smart home devices such as smart bulbs. For example, you can set a macro for Movie Mode where it dims the lights and turns the TV on.
The possibilities are endless with the AnyMote app. And while an IR blaster would make it more complete, you by no means need it as a mandatory. 
Android TV Remote Control App
apps.apple.com
If you're not in the iOS ecosystem and have shelled for an Android TV—including an Nvidia Shield, Samsung TV, and a few others—then this one should be a no-brainer. The Android TV Remote Control app. Download it to your smartphone (including iPhones) and get transported to a remote app who's middle name is simplicity.
The app lets you switch from a D-pad remote—you know, up, down, and to the side—to a touchpad and back. It even lets you use voice control by touching the mic button at the bottom of the screen. And the keyboard function when searching for something is super helpful. 
As long as your Android TV is on the same network connection as your phone, set up is quick and simple—merely connect to the device when it lists as an available device, and you're ready to go. It works with all Android TV devices, making this the best universal remote app for Samsung TV, at the least, and letting you use your smartphone as a universal remote like never before. But, again, you need an Android TV. Don't shoot the messenger. 
This content is created and maintained by a third party, and imported onto this page to help users provide their email addresses. You may be able to find more information about this and similar content at piano.io
[ad_2]
Originally Appeared Here