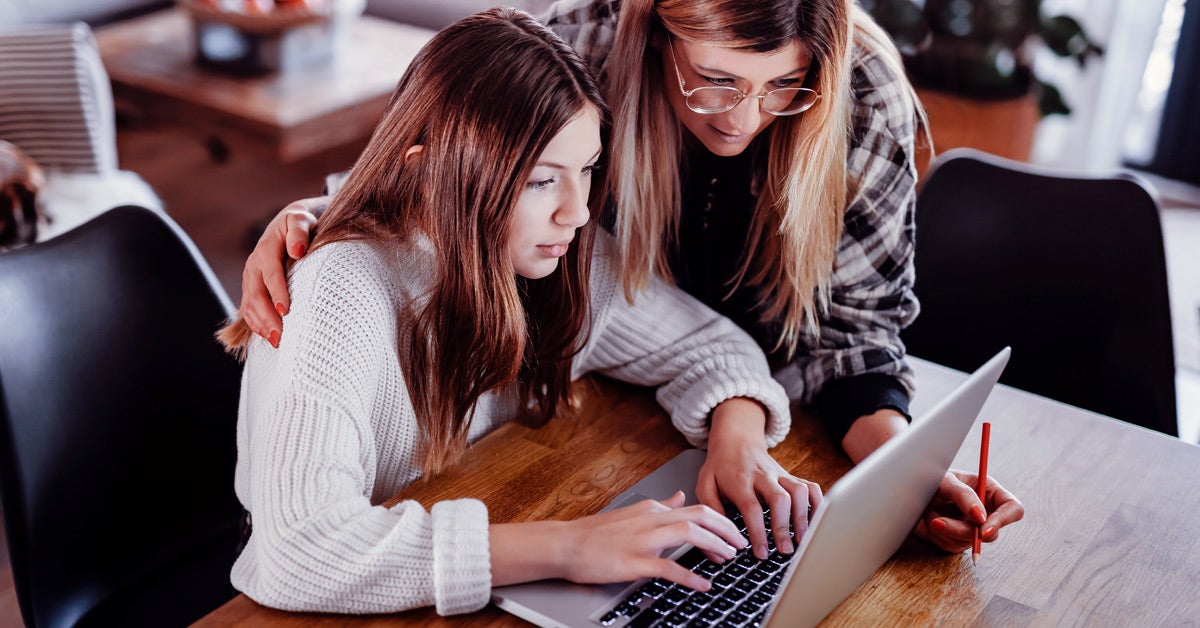 Looking for an online therapy program for your child or teenager? We lay out some of the best options to make your pick easier.
It can be hard for anyone — even adults — to talk about mental health. It can be even harder for children and teens to understand and talk about what they're feeling.
According to the World Health Organization (WHO), 10 to 20% of children and teens worldwide experience mental health conditions. Yet most of them don't seek or receive help.
In fact, in the United States, only about 20% of children with emotional, behavioral, or mental health conditions receive specialized care.
Online therapy can be one way to make mental healthcare more accessible (and affordable), and it's often considered equally effective as meeting a therapist in person.
For example, a 2016 review noted that online-delivered cognitive behavioral therapy (CBT) reduced anxiety symptoms in study participants as well as in-person therapy — including in children and adolescents.
Online therapy for kids may be a little different than therapy for adults because children and teens may have different needs.
They're also minors, so adult supervision and permission can sometimes be an issue.
Here are some answers and clarification about therapy for kids.
How do I know if my child needs therapy?
Struggling with emotions, experiencing mood episodes, and having anxiety from time to time are normal for everyone, including children. Difficulties in school and social settings are also often expected as kids grow.
But in some cases, your child may need some extra help to improve mental well-being. Here are some signs to look for that may indicate your child may benefit from therapy:
They start feeling bad about themselves or seem less confident.
They often complain of stomachaches or headaches.
They often have physical symptoms, like vomiting, for no apparent reason.
They withdraw from family and friends they used to enjoy being around.
They no longer seem interested in activities, hobbies, or things they used to enjoy.
They show excessive worry about a parent, family member, or the future.
They have a significant change in appetite or sleeping habits.
They show anxious behaviors, like restlessness or talking quickly.
They often and easily show frustration or anger.
They have repetitive behaviors, like skin-picking and hair-pulling.
They express that they feel hopeless.
They talk about or engage in any kind of self-harm, like hitting themselves.
They make comments that indicate hopelessness and a lacking sense of self-worth, like "I wish I wasn't born" or "Nobody would care if I wasn't here."
They show signs of substance use disorder or behavioral problems, like theft.
They talk explicitly about dying, wanting to die, or suicide.
Their performance or behavior at school changes, or they miss or refuse to go to school.
What does a children's therapist do?
Child and teen (adolescent) therapists, psychologists, and psychiatrists specialize in creating the best treatment and management plans specifically for children.
They can help kids and teens manage:
Can parents be involved in treatment?
You as the parent or caregiver are normally the expert on your child. Depending on your child's needs and age, the therapist will bring you into the session so you can help your child benefit from therapy in their day-to-day life at home and school.
A child therapist may also provide parenting tips and family therapy as needed to help improve communication and relationships at home.
On the other hand, teens may wish to speak with a therapist on their own and should be given privacy to do so.
A therapist will also have some one-to-one sessions with your younger child because they may not wish to speak up in front of you.
Can a minor sign up without parental consent?
In most states, children and teens cannot sign up for online therapy without the consent of an adult.
When looking into therapy for your child, it's a good idea to learn more about your state's laws on parental consent for mental health services for children and teens.
The laws may also be different for therapy and filling a prescription. For example, teens may be able to get therapy, but a parent may need to give approval for them to get prescription medication.
Does insurance cover online therapy?
If you have health insurance, it will likely provide some level of coverage for online therapy with a licensed professional.
Before you sign up your child for online therapy, it's a good idea to check with your health insurance provider if it covers online therapy sessions and if there are any specific types that are covered.
You may also want to double-check to ensure a service or therapist you're interested in is accepting your insurance.
All state-run Medicaid health plans are required to cover some mental health benefits, but plans vary state by state.
Again, it's a good idea to contact your Medicaid insurance provider and ask how much and which kid's therapy programs are covered.
If financing your kid's therapy sessions is a concern for you, know that affordable mental health therapy options are available.
Consider asking your pediatrician or family physician about therapy recommendations, or check with online providers if they offer assistance for people who may not be able to pay the full rate.
To create our list of the best online therapy services for kids, we looked for services with:
a wide range of child-specific therapy options
therapists specializing in child and teen health
lower cost and/or free consultations or assessments
positive user feedback
established, user-friendly, and secure website that protects your child's identity
Best for suicide prevention: Lifeline Chat
Cost: Free
Therapy format: Web chat, phone
Accepts insurance? N/A
Choice of provider? No
Lifeline Chat is a free online service offered by the National Suicide Prevention Lifeline.
Children, teens, and adults can fill out a short survey and then dial in to a secure and confidential chat room to speak with a counselor as quickly as one is available.
You can also call Lifeline at 800-273-8255.
Keep in mind that this service does not offer regular therapy.
Visit Lifeline Chat.
Best for urgent counseling: Crisis Text Line
Cost: Free
Therapy format: Text messaging
Accepts insurance? N/A
Choice of provider? No
Crisis Text Line is another free service that offers emergency counseling by text messaging.
Trained, volunteer counselors are available 24/7 through a secure and private platform. Kids, teens, and adults have easy access by texting "HOME" to the following phone numbers:
741741 (United States and Canada)
85258 (United Kingdom)
50808 (Ireland)
Visit Crisis Text Line.
Best overall for kids: Amwell
Cost: $109 (master's level) or $129 (doctoral level) per visit
Therapy format: Video
Accepts insurance? Yes
Choice of provider? Yes
Amwell offers therapy services for children 10 to 17 years old.
If finding time during typical business hours is difficult for you, you can easily schedule a weekend or evening appointment.
Amwell's psychiatry services are currently only available for people 18 years and older, though the website states that they may offer psychiatric services for children and teens soon.
Visit Amwell.
Best for teenagers: Rethink My Therapy
Cost: $99 per month for a single plan or $159 per month for the family/children program
Therapy format: Video, phone, messaging
Accepts insurance? No
Choice of provider? Yes
Rethink My Therapy offers a monthly subscription fee that covers unlimited appointments (based on your therapist or psychiatrist's availability). You can schedule an appointment for your child within a week. Many providers offer evening and weekend appointments.
The service also offers therapy for a number of conditions in children and teens, including:
anxiety
depression
bipolar disorder
PTSD
ADHD
Adults and teens 13 and up can access online psychiatric care. Still not sure? Sign up for their free 7-day trial to see how it works for you.
Visit Rethink My Therapy.
Best for a free consultation: Synergy eTherapy
Cost: Free consultation, $100–$200 per average 45–50-minute session
Therapy format: Video
Accepts insurance? Yes
Choice of provider? Yes
With parental permission, older children and teens can get therapy with Synergy's online and phone sessions after a free consultation.
The service doesn't offer therapy for younger children, but older kids and teens can get help for issues at school, at home, with peers, or when they just need to talk with a therapist.
Be aware that at Synergy eTherapy, parental or guardian involvement is mandatory.
Synergy eTherapy also has reduced rate options for people who don't have insurance or need financial aid.
Visit Synergy eTherapy.
Best for unlimited messaging: Talkspace
Cost: $260 per month
Therapy format: Text, audio, and video messaging
Accepts insurance? Yes
Choice of provider? Yes, or get matched (and switch as needed)
Talkspace offers therapy via text, audio, and video messaging to teens 13 to 17 years old online and through their smartphone app. Therapists respond to messages daily, 5 days per week. Live video sessions with a therapist are not included in the $260 monthly subscription fee.
Talkspace's psychiatry services are currently only available to people 18 and older, though the website states that this may change in the future.
To sign up, your teen will take an online assessment that only takes a minute before you choose the type of therapy you're looking for your child. You can get matched with a therapist or choose one yourself.
Visit Talkspace.
Best for a free assessment: Doctor on Demand
Cost: $129 for a 25-minute therapy session, $179 for a 50-minute session; psychiatry services cost $299 for an initial consultation and $129 for 15-minute follow-ups
Therapy format: Video
Accepts insurance? Yes
Choice of provider? Yes
Not sure what therapy is best for your child? Try Doctor on Demand's free mental health assessment to get more insight before choosing from their many experienced therapists and psychiatrists.
They offer appointments for any day of the week. Wait times can vary, but appointments are often available within a few days.
Aside from the free assessment, another plus of Doctor on Demand is that they offer both therapy and psychiatric services for minors.
Visit Doctor on Demand.
Best for psychiatry: MDLive
Cost: $284 for consultation, $108 for follow-up visits
Therapy format: Phone, video
Accepts insurance? Yes
Choice of provider: Yes
MDLive is one of the few online psychiatry services that provides psychiatric care to children over age 10.
Their online psychiatry sessions provide treatment for several mental health conditions in children and teens, including:
Once you choose a psychiatrist, you can generally schedule an appointment for your child within just a few days.
Visit MDLive.
Best for free chat support: 7 Cups
Cost: Free
Accepts insurance? N/A
Therapy format: Online
Choice of provider: No, but can switch
While 7 Cups' online therapy services are only available to people 18 years and older, the website does offer free listening and chat sessions for teens 13 to 17 years old in online chat rooms with trained volunteers.
If your teen is feeling lonely, needs to vent, or just talk with someone, 7 Cups is a good option to get them started.
Visit 7 Cups.
Therapy can help guide kids to express feelings and fears in a safe space, and teach lifelong coping skills.
Many kids can benefit from talking with a therapist or counselor. This is especially important when a child is struggling with something, whether going through trauma or depression, or just feeling down.
Online therapy makes mental well-being more accessible. It also makes it easier for your child or teenager to find a therapist they like.
If you believe your child may benefit from therapy, or if your child or teen approaches you asking for help in finding a mental health professional, then the services on this list may be a good place to get started.

###[ad_2]
Originally Appeared Here