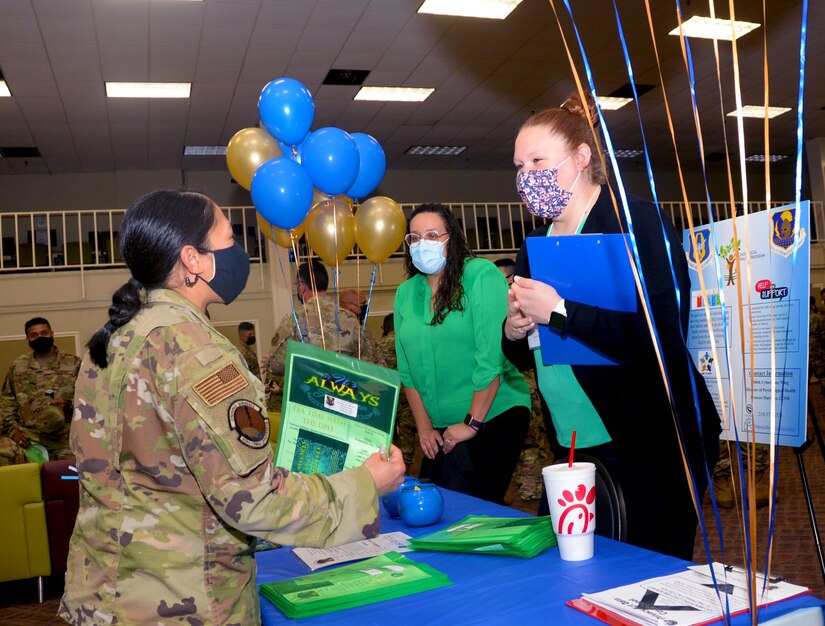 JOINT BASE SAN ANTONIO-LACKLAND, Texas –
The 960th cyberspace wing kicked off National Mental Health Awareness Month by inviting service members, civilians and their families to their first Mental Health and Resilience Fair at the San Antonio-Lackland Joint Base on May 1, with more than 800 attendees, both in person and virtually.
The fair hosted informational stands from military resource providers to educate service members about available programs and how they can access resources.
Local San Antonio area community providers and nationals were also on site to educate and market their available services.
Colonel Robert Kent, 16th Air Force (Cyber ​​Air Force) command surgeon, attended the event and said it is important to focus on mental health and resilience.
"The open invitation to families and the assistance of numerous resource agencies was a perfect example of how to support each other and build a resilient network of people in the 960th wing of cyberspace," Kent said. "I hope to double this event in the future elsewhere in the 16th Air Force."
Major Kathleen Ball, deputy chief of the Intelligence, Surveillance and Reconnaissance Division of the Information, Surveillance and Reconnaissance Division of the 854th Combat Operations Squadron, visited the booths and said that was grateful to know the variety of resources.
"I was impressed with the number of organizations that attended," Ball said. "This was a very practical and effective way to inform the wing of the tools we had at our disposal as citizen aviators of the reserve."
During the Mental Health and Resilience Fair, the Emmy-winning HBO documentary, "Ernie and Joe: Crisis Cops," was screened free to attendees.
The documentary follows two former San Antonio Police Department officers in the Mental Health Unit, Ernie Stevens and Joe Smarro, who worked to change the way police respond to mental health calls.
The film showcased his daily experiences with people who experienced a mental health crisis.
Officers are known nationally as crisis interventionists, escalation specialists, and training facilitators in police departments across the country. Their efforts helped people get proper mental health treatment by diverting them from prison, where appropriate.
Immediately after the screening of the documentary, Stevens and Smarro took to the stage to do a question and answer session in person with the audience.
"The Resilience Fair was a tremendous opportunity for our aviators to learn about a different approach to responding to mental health crises," said Colonel Richard Erredge, commander of the 960th CW. "Ernie and Joe offered their unique perspective that helped our aviators learn new skills when they meet someone in a mental health crisis. I can't thank them enough for sharing their experiences with us, as we continue to look for ways to take care of aviators. "
In closing the event, Lt. Gen. Timothy Haugh, 16th Air Force Commander (Cyber ​​Air Force), discussed the importance of destigmatizing mental health within the military and promoting help-seeking behaviors.
"We have the opportunity to execute leadership in a different way than many of our civilian counterparts," Haugh said. "We can ask people what their day is like and, based on that answer, we can stay and wait for the real answer. Once we know what the real answer is, we can work towards solutions."
Haugh further discussed with attendees Air Force initiatives of integrated programs to maintain and strengthen aviator resilience to include mental health, chaplain services, and social support systems.
According to Haugh, 99% of service members seeking mental health will not lose their safety clearance.
"If it's mental health, we can take people to a resource that will help them," he said. "One of our main goals is to destigmatize mental health treatment. Many have safety clearances, and at different times in our lives, I'm sure someone has said, "If you go to mental health, your career is over." We are doing everything possible to destigmatize it because it is not true.
Frances Martinez, LCSW, director of psychological health for the 960th cyberspace, coordinated the event and said the importance of recognizing, de-stigmatizing and decriminalizing mental health is critical to the success of military service.
According to Martinez, suicide rates within the Air Force increased in 2020, with approximately three documented suicides per week.
It is crucial that awareness and support for mental health be openly discussed to help decrease suicides and foster appropriate environments to help service members seek the help they need, he said.
"There are too many times that people feel they have no choice in times of crisis, which can lead to detrimental results," he said. "That's why we organized these kinds of events, to continue to spread mental health and move forward with destigmatizing efforts."
"I was very impressed by the participation; in what I think was the JBSA's biggest event on mental health awareness and resilience, "Kent said." All of our 16 Air Force locations could benefit from this kind of collaboration. among them and with local mental health authorities, such as the National Alliance on Mental Health. "
If you or someone you know is considering suicide, contact the National Suicide Hotline at (800) 273-8255, Option 1.