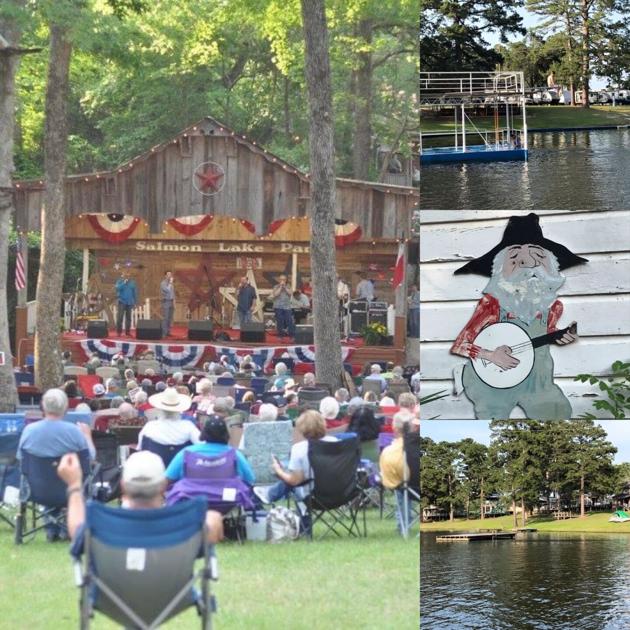 Bluegrass music lovers from across the country will gather in Grapeland for the 24th annual Memorial Day Weekend Bluegrass Gospel Festival May 27-30 at Salmon Lake Park.
"Bluegrass is not just a musical genre," said Bethany Owens, who owns the park with her husband, Trent. "For some people, the lyrics illustrate a way of life and the instruments evoke memories of a slower pace and time with the family after a long day of work. I think this is perhaps the way the park's founders, Floyd and Fannie Salmon, saw it. Being able to continue his legacy of keeping bluegrass traditions alive is truly an honor for those of us who have taken the torch here on Lake Salmon. "
Salmon Lake Park, 357 Salmon Lake Road in Grapeland has attracted some of the most important names in gospel bluegrass for the past 23 years. This year will be no different.
The lineup includes Larry Cordle & Friends, The Little Roy & Lizzy Show, Summer & Bray of Mountain Faith Band, Larry Stephenson, Kentucky Just Us, Classy & Grassy, ​​Spillwater Drive and Sabine River Bend. Returning favorites include Tin Top Road, The Marksmen and Catahoula Drive. This year's festival will also feature a local musician, Andi Huff, who will play with The Bluegrass Pals.
Rev. Mike Powell will serve as emcee of the event.
Activities in the park will be held Monday, May 24 through Sunday, May 30.
On Monday there will be garage / scrap sale exchanges at RVs from 8 a.m., devotional at 10 a.m. at the Sunshine Inn followed by Speaker Jared Dodd at 11 a.m., a golf cart parade at 7 pm with prizes for the best decorated cart and coexistence cookie to follow.
On Tuesday there will be 10 devotionals at the Sunshine Inn followed by speaker Jared Dodd at 11 a.m., corn hole at 1:30 p.m., volleyball at 6:30 p.m., and an outdoor movie at 8 p.m .: 30
On Wednesday there will be devotionals at the Sunshine Inn at 10 a.m. followed by lecturer Jared Dodd at 11 a.m., a homemade ice cream contest at 1 p.m. with prizes for first, second, and third place, the annual dinner at 5 p.m. in the afternoon at the Sunshine Inn and bingo banjo at 7 p.m.
Thursday there will be 10 a.m. devotionals with Mike Powell and 11 a.m. with Jared Dodd.
On Friday, the Grapeland Chamber of Commerce will host a breakfast with donuts and coffee in the Main Pavilion. Devotionals will follow at 10 a.m. at the Sunshine Inn. The Super Water Slide will be open from 1 to 3 p.m.
There will be devotionals on Saturday at 10 a.m. and the Super Water Slide will be open from 1 to 3 p.m.
Collectors will play throughout the park, all day, every day, with impromptu sessions on a whim. Musicians can also participate in various workshops to be held Thursday through Saturday at the Sunshine Inn.
The concert part of the festival will begin with an opening ceremony at 5pm on Thursday.
The concerts will run from 5pm to 10pm on Thursday, from 4.30pm to 10.30pm on Friday, from 4pm to 10.30pm on Saturday.
Sunday's festivities will begin with music at 10:30 p.m.
Visitors to Salmon Lake Park can swim and walk the trails. There is a playground. Alcohol is prohibited in the park. Camping and camping vehicles are still available.
Food vendors will be available at the park. There will also be arts and crafts booths. On Friday, Willow Creek Chiropractic will perform free postural scans and shoulder massages and Hospice Plus in Palestine will do free blood pressure checks.
Weekend passes are available for $ 70. Tickets cost $ 25 a day. Children 15 years old and younger stay free when traveling with an adult.
The park offers motorhome connections, cabin rentals and tent camping. Air-conditioned showers and bathrooms are available.
From Palestine, head south on US 287 / Texas 19 toward Grapeland. At the fork, take US Trade Route 287 to Grapeland. At the caution light, turn right, go two blocks west, turn right again, and follow the signs for Salmon Lake Park.
For tickets or more information, call 936-687-2594 or visit http://www.salmonlakepark.com or find them on Facebook.