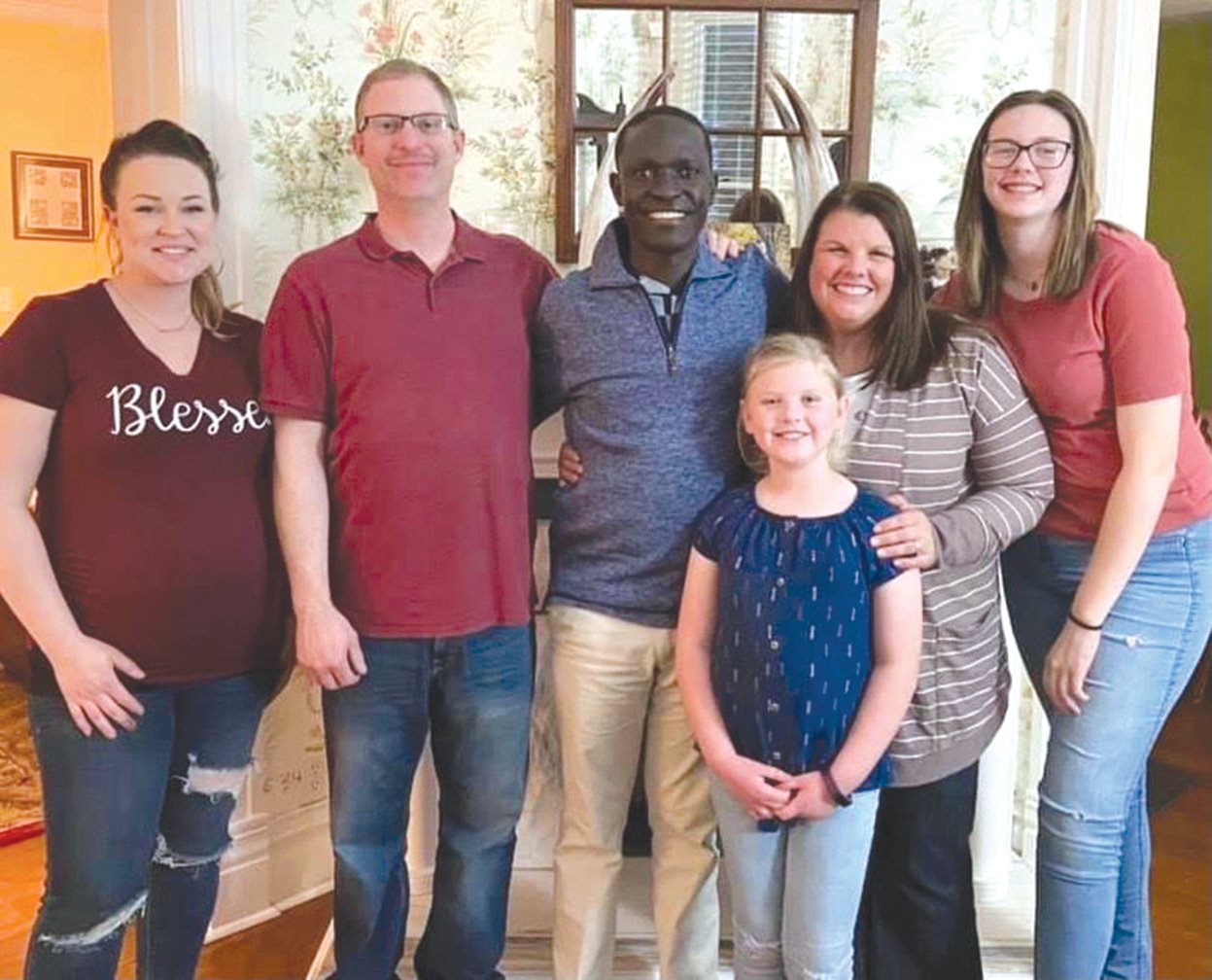 by Christy Mollet
Pastor Robert, a missionary from Uganda, visited with Teresa and Mike Watters of Hillsboro the week of May 10th.
Pastor Robert became friends with the family after his daughter Bailey took a mission trip to Uganda in 2015. Two years later, Teresa met him during a mission trip, and the family has been in contact with him since since then.
"Actually, this is Robert's trip to the United States," Mike said.
Pastor Robert grew up in Uganda on one of the islands in Lake Victoria. "I came to Christ at the age of ten in Sunday school," he said. "I graduated in economics and I wanted to help people. After school, I had the burden of going to the islands to help people.
He went on to say that the continent is a hard journey from the islands.
"I used to walk ten kilometers to get food for people. After arriving, I would take a break before returning home, "said Pastor Robert.
After becoming a Christian, Pastor Robert had the feeling that he could return, to help people think of others, so he returned to the islands, where he walked through the churches to see how he could help. .
"We started an aid school, not a business school," Pastor Robert said. "I wanted to see more children like me, to help themselves and their communities. Many do not have clean water or toilets. They are uneducated. I looked to education for people to help them, as many suffer from diseases of the drinking water and cannot avoid themselves ".
In 2007, Pastor Robert helped start a program called the International Ministry of Shepherd's Heart to help with the issue of sanitation and encourage pastors and others to develop better sanitation, including clean water.
Since the citizens are so far from the mainland, it takes between two and five hours by boat to get medical attention, depending on the island.
"They risk their health because they don't have access to the mainland," Pastor Robert said.
Due to lack of education in Uganda, Pastor Robert began making disciples of local pastors. "Many have no education, including pastors. I teach them to tell a story because they don't read. I teach them to observe and then apply what they learned to their lives, "he said. "We call it the pastor empowerment network, which is pastor training."
As in many parts of the world, Uganda faced another challenge when COVID-19 arrived last year.
"COVID made things difficult. What does it sound like when you're locked up and can't find food? Then, on top of COVID, some of the islands were flooded and many houses were washed because they are made of mud, "said Pastor Robert." We can't go to the supermarket to get food. And, to make matters worse, the fish died due to the flood ".
The government closed Uganda after the pandemic affected other parts of the world.
"Although there were no cases, COVID still affected people. Many died of starvation, "said Pastor Robert. "And many mothers were killed or beaten to defy orders because they were trying to get food for their children. They would be shot while riding in the back of motorcycles. Motorcycles are used as taxis.
The Watters have learned a lot about Pastor Robert over the years and are still learning about him.
"We learned an interesting story about Pastor Robert," Teresa said. "He was bitten by a cobra at the age of 14, while standing in the water fishing, but he survived without receiving any poison."
While Pastor Robert was in the hospital after the cobra attack, he had a special visitor. "I was bitten on the ankle and a shepherd friend came to visit me. The doctors wanted to cut my leg where they bit me, but my friend told me no. He took me to his house and treated me. It took me a whole year to recover. "
As the Watters learn more about Pastor Robert, he also learns more. The family had some experiences planned for Pastor Robert while he was in the United States
"We visited Dr. Ryan Stice of the Stice Chiropractic Clinic in Litchfield, who was also traveling when I went to Uganda," Teresa said. "Dr. Stice gave Robert his first lesson in chiropractic care and Robert received his first adjustment.
Before leaving on Monday, May 17, they toured Lincoln's sights in Springfield, the family organized a Thanksgiving dinner for him and held an open house, inviting those who wanted to visit. the pastor before his return to Uganda.
Pastor Robert had a few other places to visit before returning home, but he was eager to return his family to Uganda. "My wife Caroline and I have a two-and-a-half-year-old boy and we're expecting a baby girl in June," he said with a smile.
For anyone who wants to support Pastor Robert, you can send donations directly to Pastor Robert at https://globaloutreach.org/giving/project-details/smith-shim.