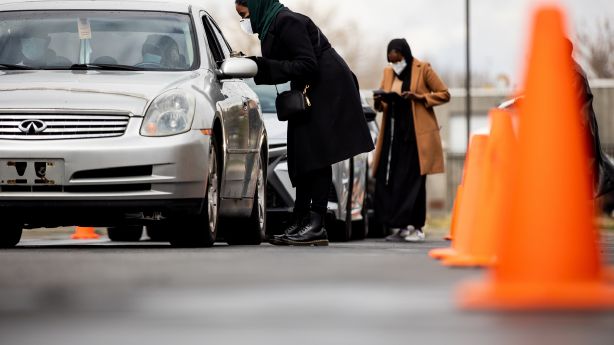 Asma Dahir directs cars during a COVID-19 vaccination event at the Khadeeja Islamic Center and Mosque in West Valley City on Friday, March 26, 2021. Health officials reported another 362 new COVID-19 cases on Tuesday. (Spenser Heaps, Deseret News)
SALT LAKE CITY — Utah's hospitalized COVID-19 patients jumped to its highest number in months Tuesday as the state continues to experience a small surge in cases of the disease.
There are 225 COVID-19 patients currently hospitalized in Utah, including 79 in intensive care units, according to the Utah Department of Health.
That's the highest number of currently hospitalized cases in Utah since 231 hospitalizations were reported on Feb. 25, according to state data. The 79 patients in intensive care is the highest since the same number was reported on March 5, according to the health department.
Utah's number of COVID-19 cases increased by 361 on Tuesday, with three more deaths and 4,519 vaccinations reported.
The rolling seven-day average number of positive cases per day is now at 364, according to the health department. The positive test rate per day for that time period calculated with the "people over people" method is now 9.7%. The positive test rate per day for that time period calculated with the "test over test" method is now 6.4%.
About 73% of ICU beds at Utah hospitals are occupied Tuesday, including about 76% of ICU beds in the state's 16 referral hospitals. That's above the state's ICU utilization "warning" level of 72%, meaning that ICUs are at higher capacity than is optimal. About 52% of non-ICU beds at Utah hospitals are now occupied.
The spike in hospitalizations comes as Utah has seen an increase in COVID-19 cases, mostly among unvaccinated people.
Though the majority of recent new cases have been among people who have not received the vaccine, there are still a handful of "breakthrough" cases that have been diagnosed in fully vaccinated Utahns.
The seven-day COVID-19 case rate for unvaccinated Utahns is reported at 125.8 per 100,000 people Tuesday, according to the health department. That rate is 15.7 for fully vaccinated people, and the rate for all Utahns is 79.5, according to state data.
From June 20-26, the most recent seven-day period for which data on Utah breakthrough cases is available, state data shows a total of 2,338 COVID-19 cases. Of those, 245, or just over 10%, were breakthrough cases, according to the health department.
A total of 1,573,133 Utahns — or about 49.1% of the state's total population — have now received at least one dose of the vaccine. A total of 1,399,374 Utahns — or about 43.6% of the population — is now fully vaccinated. About 60.7% of Utahns age 12 and older, the population that is currently eligible for the vaccines, have received at least a first dose, and 54% of that population is fully vaccinated.
A total of 2,851,187 vaccine doses have been administered in the state, up from 2,846,668 Monday. A total of 3,253,764 vaccine doses have been shipped to Utah so far.
Tuesday's new numbers indicate a 0.09% increase in positive cases since Monday. Of the 2,790,264 people tested for COVID-19 in Utah so far, 14.9% have tested positive for COVID-19. The number of tests conducted since the COVID-19 pandemic began in Utah is up to 5,095,549 Tuesday, an increase of 5,452 since Monday. Of those, 3,272 were tests of people who hadn't previously been tested for COVID-19.
The deaths reported Tuesday include two men who were between the ages of 45 and 64, one from Salt Lake County and one from Davis County, as well as a woman from Box Elder County who was between 25 and 44. All three were hospitalized when they died, the health department said.
Tuesday's totals give Utah 414,565 total confirmed cases, with 17,481 total hospitalizations and 2,368 total deaths from the disease.
×
More stories you may be interested in
###[ad_2]
Originally Appeared Here